News From
Around the Institute
Wine, Cheese, and Talking with Douglas W. Schmidt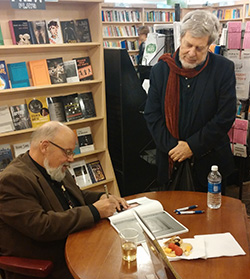 Tony Walton stopped by The Drama Book Shop to converse with Douglas W. Schmidt during a Q & A and book signing with authors Barry and Annie Cleveland for The Designs of Douglas W. Schmidt. The wine and cheese reception was characterized by great conversation and information exchanges. VP-Publications Michael Mehler moderated the event.
Seek Speakers for 2016 NATEAC
The directors of the North American Theatre Engineering and Architecture Conference (NATEAC) announced a Call for Papers for the next NATEAC July 17 and 18, 2016 in New York City. Those who have a topic of discussion they wish to present should contact Bill Sapsis, conference director, at Bill@NATEAC.org
The venue for the 2016 event will be the Roosevelt Hotel at 45th Street and 5th Avenue. The popular harbor cruise will take place on Saturday evening, July 16 and the post conference dinner will again be held at iconic Broadway restaurant Sardis. Registration is set to open in March 2016. Discounted hotel rooms will be available to attendees and their families.
North American Theater Engineering and Architecture Conference (NATEAC) promotes communication among the architects, engineers, consultants, and manufacturers responsible for designing and building new theaters and renovating existing facilities in North America. Visit www.NATEAC.org for more information.
ETC's Source Four LEDs featured in How It's Made episode
The popular Discovery Science Channel show How It's Made aired a special episode on stage lights that prominently features ETC's Source Four LED luminaires. The episode premiered in the U.S. on April 9 on the Science Channel, which is available through most North American cable television providers.   
"One of the things we take the most pride in at ETC is our manufacturing process," said ETC CEO Fred Foster, "and it's about to get some major recognition. How It's Made is going to showcase one part of what makes ETC such a special company."
A year ago, a film crew visited ETC's headquarters in Middleton, Wisconsin, to shoot footage of Source Four LED luminaires being assembled. They interviewed the employees responsible for each aspect of the manufacturing process to get an idea of what goes into producing the fixtures. Because all of the work is done in house at the main ETC factory, a customer can place an order for luminaires in the morning, and they can be fully assembled and shipped in the afternoon.