News & Notices
Art Auction Update, Fellowship Winners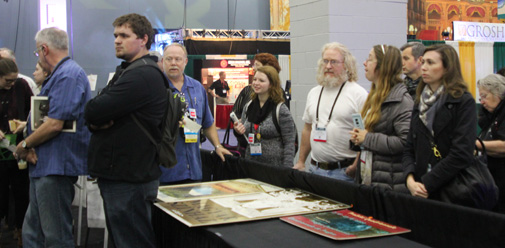 Another successful art auction and garage sale at the Cincinnati 2015 Annual Conference & Stage Expo brought in $11,245 to  be added to the principle of the Kook Fund. It will go a long way toward providing seed money for future Grants and Fellowships that USITT will provide to members.
This year's Fellowship winners, announced at the Conference, were Sara Jablon, Pegi Marshall-Amundsen, Leon Weibers, and Ellen Jones .
Ms. Jablon received $9,000 to pursue Historical Accuracy in Contemporary Costume Design. She will compare the actual construction of historical garments and how they might be represented on contemporary stages using current costume design and production practices. The research will become the foundation for Ms. Jablon's dissertation research and will be shared with USITT members through either a future TD&T or USITT Conference presentation.
Ms. Marshall-Amundsen will use the $6,000 she was awarded to study To Trash or Not to Trash: Making sustainable choices in theatre design scenic shops.
Mr. Weibers was awarded $6,000 to investigate 'Good Dirt': Preliminary research into Korean community customs, costumes and collaborative work. This fellowship will fund Mr. Weibers' research trip to Korea where he will study native customs and production techniques (focusing primarily on masks and costume construction) so he can bring that information back to work with a group of collaborators to produce an authentic Korean production of Good Dirt.
Ms. Jones' $4,000 award will go toward Studying Traditional Decorative Arts Practices in Florence (with an interest towards sustainability and greener theatre practices). Ms. Jones will attend and participate in a series of studio painting workshops in Florence that specialize in creating and using historical paint pigments and practices. A secondary focus will study the health risks of the materials that are used in these pigments and how these might be influenced by today's greener, more sustainable painting practices.
These Fellowships were made possible by generous contributions as well as events like the art auction and garage sale.
The committee especially expressed its thanks to all who helped make this year's auction so successful. Those thanks go first to the many individuals who graciously donated their work or personal treasures to our auction ---to them, way too many to list individually – the committee sends an especially grateful word of thanks.
Also greatly appreciated are the members of the Grants and Fellowship Committee for all of their efforts and work towards making this auction a success (much of this work happens months before the actual conference and auction) …and especially Randy Earle for once again heading up the garage sale portion of this fundraiser.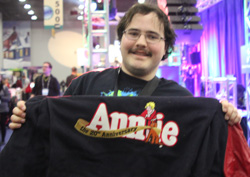 Finally, thanks are expressed to all who took part in the fun of bidding and purchasing through the auction and garage sale ---it couldn't have been a successful event without those bids and purchases. For those fortunate enough to have the winning bid –we hope that you are enjoying your new additions to your collections. If you missed out on the fun, know that the auction and garage sale will return in three years. If anyone would like more information about making any donations to the next auction or garage sale, please contact me at rdunham@uga.edu.