News & Notices
In Memoriam: Donald A. Hoffend, Sr.
Donald A. Hoffend Sr. of Rochester, New York and Alexandria, Virginia died April 13, 2015. He was 94.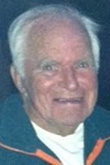 He started his career with Kodak, and after serving in the Marine Corps during World War II he returned to Rochester and began working at his father's scenery and stage equipment company, expanding it into a global manufacturer and installer of stage systems. The company, Hoffend & Sons. shipped products to more than 30 counties and installed systems both in the United States and internationally.
USITT Fellow Van Phillips said that "Don Sr., along with Jim Kibler of Tiffin, was one of the really 'old school' good guys in the rigging business, always concerned with safety... He was part of the era of Eddie Kook and others who were the industry backbone of USITT back in the day."
A 1993 news story in a Rochester newspaper describes how the senior Mr. Hoffend grew the company started by his father who began by doing local school stages. "With the baby boom and more elementary schools, the business grew. Hoffend grew with the babies, moving into high school stages and then colleges." That expanded further to include facilities like the 25,000 seat Teresa Carreno Cultural Center in Caracas, Venezuela.
Don Hoffend Sr. was a lifetime member of IATSE 25 and Ironworkers International 433.
He was predeceased by his wife, Marian, in 2005. Survivors include his brothers Richard and Daniel; five children, Judith, Nancy Walther, Donald Jr., Deborah Jacques, and Jack; 11 grandchildren, and six great-grandchildren.
During the 1980s, Donald Jr., Judith, and Jack worked with their father and their sister, Judith, handled the books for the enterprise. Both his sons continue in the entertainment industry, as does a grandson, Donald III (Trip). Jack noted that "everything I have he taught me, not only the hardware but the integrity... he gave me the trade and I've been doing that for 45 years."
Donations may be directed to the Wounded Warrior Project. For online condolences, visit www.miller1889.com.