News & Notices
#RigSafe: Rigging Safety Becomes a Trend on Arbor Day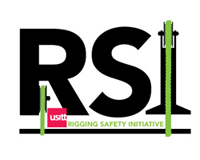 USITT launched the first Rigging Safety Day on social media April 24, generating great enthusiasm for stage rigging safety and raising awareness of programs like the Entertainment Technician Certification Program (ETCP) and its own Rigging Safety Initiative.
After declaring Arbor Day a day to promote rigging safety with the hashtag #RigSafe on Twitter and Facebook, USITT got lots of help from friends in the industry. The results had #RigSafe trending on Twitter for over 24 hours.
The bold new logo for the Rigging Safety Initiative, which offers free rigging inspections and safety training for school stages, was released the same day. The logo, created by Marketing Specialist Gabrielle Chiddy, will appear on RSI promotions and publications.
The Jay O. Glerum Rigging Master Classes are being established as an annual training series from entry level to advanced training in memory of the late Master Rigger, author, and teacher Jay Glerum. Classes are set to begin next year.
Many USITT friends got into the#RigSafe act, with creative posts reminding venues to have their rigging inspected or donate to rigging safety causes on Arbor Day. (Here's a good one from ZFX Flying Effects: twitter.com/ZFXFlying).
And USITT gained some International rigging safety friends, including India's professional aerial rigging company, Natura; Showtech Australia; and the German association for entertainment safety, VBG. (See their amazing "Rigger in Wheelchair" video. )
The second annual Rigging Safety Day is already in the works for next Arbor Day, Friday, April 29. Mark your calendars and plan to participate!
Meanwhile, consider a donation to the RSI at www.usitt.org/rigsafe. USITT is now accepting applications from schools for the next round of funding in the fall.
Businesses are invited to become corporate sponsors for the Jay Glerum Rigging Master Classes. Interested organizations should contact David Grindle, david@usitt.org.