News & Notices
Executive Director Wins Award, To Give Keynote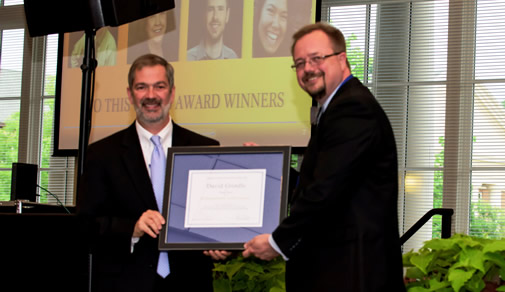 Executive Director David Grindle is in the spotlight. His alma mater, Georgia's Berry College, gave him its Distinguished Achievement Award last month, and this month he'll give the keynote address at Entertainment Technology New Zealand's 2015 Conference.
Mr. Grindle returned to Berry College to accept his award May 16. He received his undergraduate degree in music there in 1993 and obtained a master's in opera directing from Indiana University in 1995. He went on to roles as production manager for the Atlanta Opera and Indiana University Bloomington, where he also taught stage management.
In 2010, USITT hired him as executive director. He has since seen the Institute through unprecedented growth, reorganization, fiscal transparency, and recognition by the technical theatre and live entertainment industry.
Joni Kenyon of the Berry College Alumni Association said the college has bestowed the Distinguished Achievement Award annually since 1969. Recipients must achieve "far beyond average" success with outstanding leadership in a field or a significant organization. Plaques honoring the winners are displayed in the college's Alumni Hall of Fame.
Berry College is recognized nationally for the quality and value of its educational experience, and received the No. 1 "Up and Coming College" designation from U.S. News Best Colleges. It is located on the world's largest contiguous college campus, 27,000-plus acres near Rome, Georgia.
Mr. Grindle said he was surprised to be named a Distinguished Alumnus. "It's great being the first person who has had a career in the arts to receive this award," he said. "And it's some amazing company to be sitting in. Other winners have been diplomats and scientists. Last year's winner designed radiation security for nuclear plants."
Next, Mr. Grindle travels to New Zealand to open ETNZ 2015 on June 30. He'll speak on communication and collaboration in entertainment technology, and present workshops on stage management. Another USITT presenter, Sean Savoie, will lead sessions on projection and lighting design.
"I first met ETNZ folks when they attended our Conference, and as we reach out to make international connections, we certainly want to be connected with groups like ETNZ," Mr. Grindle said. He said ETNZ's one-day event attracts 150 to 200 people, "a pretty big group from a small nation."
Mr. Grindle also attracted accolades last year when the Trade Show News Network and The Expo Group named him 2014 Trade Show Manager of the Year.