Commissions
Conference Teems with Costuming Adventures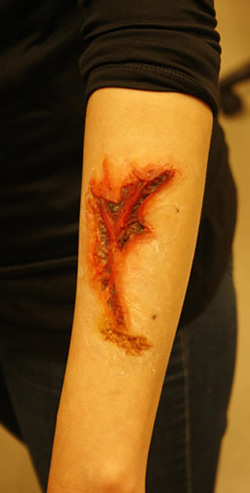 The Basics of Successful Web Portfolio Design and Prosthetic Aesthetics professional development workshops primed the pump for costumers at the 55th Annual Conference & Stage Expo in Cincinnati, Ohio in March.
Things only got better. The first session supported by the Costume Commission was a part of the Safe Design group, Costume Design Done Safely. It explored how to creatively design lighter weight and more breathable costumes by implementing safety into the design process.
Diana Adams and the creative team from the Cincinnati Ballet shared their experiences building exquisite costumes for dance and movement in another session. Shortly after Commission members could attend Working Smarter: Using Technology to Optimize Your Costume Shop.
A session many members found fascinating was the Unknown Costume Designers 1900-1930 presented by Del and Ione Unruh. Environmentally friendly costuming was covered by Ellen Jones and Jessica Pribble in Green Clothing Outside Oz, which discussed how to embrace the sustainability movement in costuming.
Donna Meester, Commissioner, led the annual Costume Design & Technology meeting. It was a chance for new members and current members to network and get to know one another. It also provided new members and current members a chance to get involved with the Costume Design & Technology Commission.
On Thursday, LaLonnie Lehman presented Fashion in the time of The Great Gatsby. This was followed by the annual Costume Design & Technology Poster Session spearheaded by Jeffery Lieder. The poster session helps members share new ideas, solutions to problems, vintage techniques, new products, or fascinating costume techniques.
Glamour Make-up Tips for Stage, Screen, and Crown was a fun and informative workshop presented by Karen Anselm, William Henshaw, and Derek Robertson. Joe Kucharski and Heather Milam discussed the potential for using 3D printing for costume design and technology.
The USITT Distinguished Achievement Award Winners in Conversation session Friday morning allowed attendees  to hear firsthand from this year's award winners. Jane Greenwood received the Distinguished Achievement Award sponsored by the Costume Design & Technology Commission. She has designed 125 Broadway productions and has been nominated for 18 Tony awards. The Commission featured a special session that evening with Ms. Greenwood which allowed members a more intimate opportunity to ask her questions about her experiences. It was followed by a reception for all in attendance.
The Hands-on Design & Technology Mystery Game Show Challenge, organized by Tom Bernard and Regina Truhart, had teams of designers and technicians open mystery boxes and work together to create one-of-a-kind works of costume art. The winning team consisted of David Arevalo, Randy Blades, Caroline Spitzer, and Jonathan Waters.
Running the Show kicked off the Conference's final day with representatives of the Wardrobe Union discussing challenges in transitioning a show from the design process to the run. This session was followed by the newly developed Student Leadership Initiative showcasing cutting edge ideas and highly creative skills by students. Costume At The Turn Of The Century 1990 – 2015 was then presented by Laura Crow, Alexandra Bonds, Susan Tsu, and Igor Roussanoff. Forty-six American designers have been selected for a special exhibition in Moscow, and this session showcased them and their work.
The final Costume Commission session this year was the much anticipated special offering, Wood That Moves: Noh Mask-Making, with Hideta Kitazawa. This session highlighted the work of the Japanese master mask-maker, one of the last wood mask carvers in Tokyo. This magical and inspiring session covered the history, traditions, and techniques of the art of Noh masks.