News & Notices
OISTAT Day, Other Activities Planned at PQ '15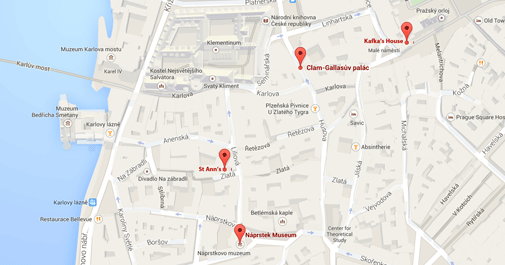 The Prague Quadrennial is a very busy, exhilarating but slightly confusing time. There are many locations for the Quadrennial exhibits and activities. The USA exhibit is at St. Ann's Church (on the corner of Liliova and Zlata) and the USA Student Exhibit is at Kafka's House (on Male on the way to Old Town Square).  
One day-long activity to which all USITT members and friends are invited is the OISTAT Day Celebration from noon until 10 p.m. June 20 in the courtyard of the Naprstek Museum located at Bethlehem Square. There will be a day of activities including lighting, sound, and puppetry; presentations; small performances; live entertainment; and individual presentations about OISTAT projects. And don't forget food and drink offerings. An open meeting with Individual Members and people interested in membership will be at 2 p.m.
In addition to the OISTAT Day celebration, each OISTAT Commission is holding an open meeting at the Clam Gallas Palace (located where the main Karlova walking street takes a kink/ bend at Husova Street) on June 18. Sound Design from noon to 2 p.m., Performance Design from 2 to 4 p.m., and Costume Design from 4 to 6 p.m. On June 23, also at the Clam Gallas Palace, the Publication and Education Commissions will meet, time to be determined www.oistat.org. A full schedule of PQ '15 events is on the OISTAT website. Remember all USITT members are automatically members of OISTAT. All USITT members and friends are invited to the OISTAT Day celebration without needing to register.
Keep abreast of all OISTAT international activities  Meetings are arranged with local hosts, and schedules are subject to change.