Conference & Stage Expo
Cover the Walls, Present and Past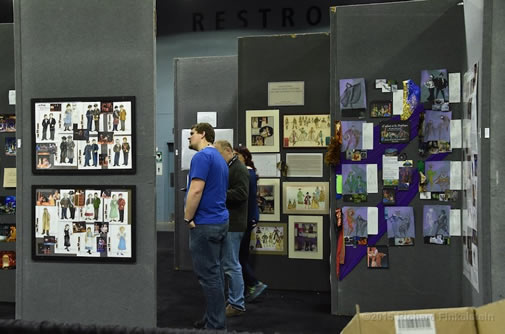 At this year's 2015 Annual Conference & Stage Expo in Cincinnati, Ohio, members displayed many designs and projects across 142 panels in the Cover the Walls exhibit on the Stage Expo floor.
Cover the Walls (and on alternate years, the Design Expo) provides freestanding panels which members reserve in advance for a nominal fee. Participants were pleasantly surprised by this year's increase in size to 4-by-10-foot panels.
For many designers and craftspeople, the chance to exhibit their best work and view the work of their colleagues is a highlight of the Conference. Unlike the Design Expo, in which participants enter one realized design to be judged for inclusion in TD&T, Cover the Walls offers designers an unadjudicated opportunity to showcase their work in any way they see fit, within the constraints of the panel size. The resulting exhibit is a joyous montage of professional and student designs, paper projects, crafts and more.
Current Committee Chair Douglas Gilpin and several former chairs -- brothers Lance and Bruce Brockman and Arden Weaver -- attribute the event's origins to the trials of the early Design Expo, which began in 1980 as an entry point to the Prague Quadrennial. The Expo required that original artwork adhere to exact measurements and be mailed to the committee for judging in advance. Only selected designs were displayed at the Conference in a formal, gallery-style exhibit.
Cover the Walls debuted at the Wichita 1993 Annual Conference & Stage Expo as an off-year alternative to the cumbersome and expensive process of the Design Expo. Lance Brockman had been inspired by an open student exhibit called "Cover the Walls" at the Minneapolis Institute of Arts College of Art and Design. As Lance said, "It seemed to a group of us that this was more in the spirit of a member exhibit; let any and everyone bring, hang, and disassemble an exhibit."
According to Bruce, "There was a remarkable sense of camaraderie among the first design exhibitors. Each designer signed their names on their panel with a Sharpie, and I think everyone really enjoyed the spirit of sharing that was what it was supposed to be all about."
Twenty-two years and eleven Cover the Walls later, that spirit is still going strong.