Fellows Update
John Bracewell Changes Focus in 'Retirement'
This is another in a series of articles on what USITT's Fellows have been accomplishing. John Bracewell was named a Fellow of the Institute in 1995. He retired in 2004 from Ithaca College in Ithaca, New York where he had been with the Theatre Arts Department since 1973. Mr. Bracewell was honored with USITT's Distinguished Achievement Award for Sound Design in 2001. He is the author of Sound Design in the Theatre, and has held numerous leadership positions within USITT, including serving as Commissioner of both the Education and Sound Commissions at different times. He was also a Director at Large.

When he "retired" Mr. Bracewell had designed sound and composed music for more than 70 productions since becoming involved in theatre in 1962. Continue reading to see what he has accomplished since then.
John Bracewell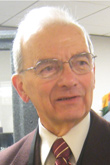 "Marwood, Marwood. Let us retire from the world and become shepherdesses," said Lady Wishfort in the final act of Congreve's The Way of the World. Of course, Lady Wishfort probably had no idea of how much trouble and work would be involved in herding sheep!
In my opinion, a successful retirement requires work—either moving into another phase of professional activity or finding an alternative. For me, the latter was a fortunate choice because, on retirement, I found (somewhat to my surprise) that I was truly done with theatre. The alternate choice was my original love: music.
My goal entering college as a freshman was to be a professional trombonist or, failing that, a music educator. Combinations of circumstances rendered both of those goals impractical, but music remained an interest throughout my working years in theatre. As I began to see that I was ready to retire, I thought perhaps I might try playing trombone again. I dug the instrument out of storage and started practicing. To my surprise, things that hadn't fallen into place years before now did so.
I joined a community band and a community orchestra in Ithaca, New York and similar groups during summers in Ontario and Michigan. In Michigan, the musical associations led me back, briefly, into work with theatre. I was regularly recruited to play pit orchestras for summer musical and operatic productions for a theatre in Sault Sainte Marie, Michigan. When the theatre administration learned that I had been a professor of theatre technology, I was asked to help deal with some of the problems involved in upgrading and renovating the theatre building
During my working life in theatre, use of computers and software for audio recording and editing became an all-consuming interest for me, just as the earlier, analog forms of sound and audio had been. I was one of the people who pushed for acquisition and use of computers for theatre at a time when a number of colleagues adamantly insisted that computers had no place in theatre. (For box office accounting, perhaps, but certainly not for design or technology!)
Then, when I retired, I found myself suddenly bereft. Apart from e-mail, word-processing for letters and documents, and minor use of spreadsheets for accounts and such, my need for the challenge and fun of audio software completely disappeared.
On the other hand, music now uses software for arrangement and composition. Music scanning and notation programs are easily as complex, powerful, and rewarding as audio/video recording and editing software, and as challenging as major drafting programs. I frequently work as a composer and arranger, so music scanning and notation programs are now my replacements for all the audio, drafting, and video programs that were my passion during my later years in theatre.
All of the various interests I've explored over the years in theatre technology have served to provide me with more than enough useful abilities for retirement. Prior to retirement, my wife and I had begun construction of a new house in Canada, and we intended to do almost all aspects of the construction ourselves—from planning to framing to plumbing to electrical to finishing. Over the course of about ten years, we've gotten the house to the point of being able to live in comfortably. Completely finished? No, and it may never be; but that effort has kept us physically fit and active.
In the pursuit of finishing that house and with our participation in music performance (both of us), hopefully, the working effort will continue to foster our active way of life and health. Work required? Yes, but, as I said, in this Fellow's opinion, that's a central element in having a good and enjoyable retirement.