News & Notices
Yale Takes Top Honors in Venue Renovation Challenge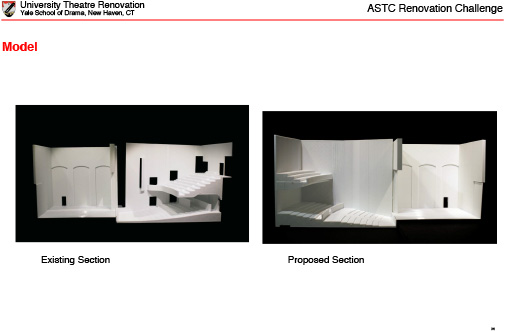 The second annual ASTC/USITT Venue Renovation Challenge awards were presented at the 55th Annual USITT Conference & Stage Expo in Cincinnati, Ohio.
The Challenge gives student members an opportunity to work with a practicing ASTC theatre consultant and stretch their skills and knowledge by developing plans to improve an existing performance venue and present them, as they would to a real world client, at a panel with a live audience.
The Yale University team – with members Jeong Sik Yoo and Mitchell Cramond and Gene Leitermann serving as ASTC mentor and Matt Welander as faculty advisor -- selected the University Theatre at Yale. The team received the $750 award.
DePaul University's team consisted of Jamie Davis, David Millard, Jackson Walsh, Alyse Porsella, Alexa Santiago, Joe Clavell, Dana Stringer, Nathaly Garcia, Marisa Melito, Jamie Lynn Woods, Vada Branco, and Kevin Kushman with Joshua Grossman as ASTC mentor and Shane Kelly serving as faculty advisor. Their renovation challenge, which netted them a $360 Merit Award, was for the Merle Reskin Theatre (formerly the Blackstone Theatre).
"The student teams came through with impressive projects for the second year of the ASTC/USITT Venue Renovation Challenge. Their presentations … were thoughtful and professional. The Challenge is proving to be a successful conduit for reaching young, talented technical theater students and exposing them to theatre consulting as a career." said Mike McMackin, ASTC board member.
The Challenge will be held again next year with details currently on the ASTC website. For information, contact Mr. McMackin at mmcmackin@auerbachconsultants.com.