News & Notices
Announcements
Three Stage Managers Earn Lifetime Achievement Honors
The Stage Managers' Association (SMA) announced that Frank Hartenstein, Craig Jacobs, and Jill Rendall have received the annual Del Hughes Award for Lifetime Achievement in the Art of Stage Management.
Mr. Hartenstein, a longtime New York (and California) stage manager, has overseen more than 35 Broadway shows including Starlight Express and The Who's Tommy, as well as numerous original productions at the La Jolla Playhouse in San Diego, California under the direction of Des McAnuff.
Mr. Jacobs holds a record for having stage managed The Phantom of the Opera for 25 years, among many other productions. He also helped many young stage managers network by holding weekly gatherings at Gallagher's in New York City.
Ms. Rendall has been stage manager for the Oregon Shakespeare Festival for over 21 years in addition to working at other prominent regional theatres. She has served as a councilor on Actors' Equity Association's governing body.
The award recognizes stage managers who exemplify the qualities of humor, diplomacy, grace under fire, technical expertise and passion. It is named for Del Hughes, a stage manager, performer and television director who managed dozens of Broadway productions, including the premiere of Arthur Miller's Death of a Salesman in 1949.  In 1985, his daughter, renowned casting director Julie Hughes, along with her business partner, Barry Moss, asked the SMA to create the award to honor her father's legacy.  That first year the award went to Phil Friedman, who was known as Bob Fosse's stage manager.  Twenty-two awards have been given since then.
Stage|Set|Scenery Night Slated June 10 in Berlin
The Stage|Set|Scenery Night June 10 in Berlin, Germany promises to be an outstanding networking event for experts from the international theatre, film, and event industries. Around 1,000 guests are expected at the event which will be opened by Tim Renner, state secretary for cultural affairs of the Land of Berlin. As of 6 p.m. visitors will be treated to a barbecue buffet, cold drinks, and live music in the Summer Garden and Palais am Funkturm.
Stage|Set|Scenery, an international trade fair and conference for production and event technology, will run June 9 to 11 at the Berlin Exhibition Grounds. A total of 250 exhibitors from 22 countries and around 7,500 trade visitors are expected to attend.
A ticket to the Stage|Set|Scenery Night costs 40 euros and can be purchased online at www.stage-set-scenery.de. Reduced rates are available for DTHG members through the members' section of the DTHG website www.dthg.de. A password is required.
Make-up Lighting, Rigging, Remote Device Standards Up for Review
Three draft American National Standards are available for public review on the PLASA TSP website .
BSR E1.55, Standard for Theatrical Make-up Mirror Lighting applies to lighting systems for make-up mirrors and stations used by performers and make-up artists in theatres and other performance venues. It describes the topology of the make-up mirror lighting system, the quantity of light, the distribution of light from those sources, apparent source size, brightness, color rendering, and correlated color temperature. The last day to comment is June 22.
BSR E1.47, Entertainment Technology – Recommended Guidelines for Entertainment Rigging System Inspections offers guidance on inspecting entertainment rigging systems used to lift and support scenery, luminaires, and other equipment overhead in entertainment venues, such as theatres, video/film studios, amphitheatres, and arenas used for live performances or special events. The guidelines include recommended inspector qualifications and responsibilities, scope and frequency of inspections, content of the rigging inspection report, and related information concerning the inspection process. The last day to comment is June 22.
BSR E1.37-2, Entertainment Technology - Additional Message Sets for ANSI E1.20 (RDM) – Part 2, IPv4 & DNS Configuration Messages is part two of the E1.37 project. It provides additional get/set parameter messages (PIDs) for use with the ANSI E1.20 Remote Device Management protocol. Messages in this document are intended for configuring network interfaces and Domain Name System settings on devices with an IPv4 address. As published, the current standard contains errors. The version being offered for public review corrects those errors. The last day to comment is June 29.
For more information, contact Karl G. Ruling, technical standards manager, PLASA; 630 Ninth Avenue, Suite 609; New York, NY 10036; 1-212-244-1505; or standards.na@plasa.org.
Four to Receive TCG Leadership U[niversity] Grants
Theatre Communications Group (TCG) announced the recipients of the 2015 Round 3 Cycle A recipients of the Leadership U[niversity]—Continuing Ed program. Through the support of The Andrew W. Mellon Foundation, grants of up to $5,000 will support four theatre professionals at TCG Member Theatres in learning opportunities to advance their leadership skills.
Creede (Colorado)  Repertory Theatre's Audience Development Associate Elizabeth Zurn will travel to five theatres and conduct interviews to explore best practices for administering, funding, and evaluating audience enrichment activities at rural theatres. She will integrate this knowledge into Creede Rep's programming and disseminate information to other interested theatres. This research will develop her skills as a collaborative leader as well as improve Creede Rep's programming, enhance the experience of theatergoers, and build relationships among theatres commonly isolated.
Indiana Repertory Theatre's Associate Director of Development Jennifer Turner will learn and implement new fundraising strategies along with new community/partnership building skills in order to continue to stabilize and grow the theatre's development program. This will provide her, the staff, and the board development committees with a new foundation of ideas to grow the annual campaign and begin the process of launching a capital campaign.
Michael Robertson, managing director of the Lark Play Development Center in New York City, will embark on a personalized equity and inclusion curriculum focused on facilitation training and knowledge-building. His collaborators will include Carmen Morgan (leadership development in Intergroup Relations), Sharifa Johka (Oregon Shakespeare Festival), Leslie Ishii (independent artist and activist), and the Interaction Institute for Social Change focusing on organizational and field changes with respect to inclusion, access, and equity.
The Old Globe's Resident Associate Costume Designer Charlotte Devaux Shields will conduct an intensive exploration in the United Kingdom of all aspects of the world's greatest collections of historical costume and gain insight and inspiration from leading costume professionals.
Leadership U[niversity] awards grants in two initiatives: One-on-One for early-career leaders and Continuing Ed for mid-career and veteran professionals. Continuing Ed grants are awarded to mid-career to veteran professionals at TCG Member Theatres for learning opportunities to advance their leadership skills. Grants have been awarded to the applicants' home theatres on behalf of the theatre practitioners.
For more information, visit www.tcg.org.
Lightpower Donates $50,000 to Behind the Scenes
A donation of $50,000 to Behind the Scenes was made by Ralph-Jörg Wezorke, owner of Lightpower, during the opening reception leading up to Musikmesse in Frankfurt, Germany, for the Lightpower Collection's exhibit of Neal Preston's photograpy "In the Eye of the Rock 'n Roll Hurricane."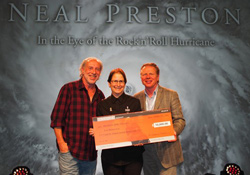 The donation, which represents proceeds from three previous exhibitions over the last year, will be split between BTS in North America and the newly launched BTS United Kingdom.
Mr. Preston has spent more than 40 years capturing rock and roll visuals, with unprecedented access to musicians ranging from Bruce Springsteen to Led Zeppelin, and Mick Jagger to Queen, both on and off the stage. Considered one its greatest chroniclers, he has the most extensive body of work in rock and roll history.
After the check presentation Mr. Preston told the crowd, "I've been on a lot of rock tours, I've traveled around the world more times than I can remember, and I know without question there is nobody on this planet -- nobody -- who works harder than a roadie on a big rock and roll tour …. These are the guys that really make it happen, and when they are in need, it's great to have Behind the Scenes to help them."
The exhibition featured nearly 70 large-format, museum quality fine art prints. Proceeds from the sales of fine art prints, books, and souvenirs are donated to charity.
For more information about Behind the Scenes, to donate, or to apply for a grant, visit www.behindthescenescharity.org.
Vancouver Site of 25th Annual Rendez-Vous
This summer will mark a special 25th Anniversary for CITT Rendez-Vous 2015 Annual Conference & Trade Show August 20 to 22 in Vancouver, British Columbia.
 
The conference offers three days of sessions, workshops, backstage tours, trade show, social events and networking opportunities.
Complete schedules are in the links, with daily highlights noted.
Visit the event website at www.citt.org/annual_conference.html