Commissions
Submit Costume Poster Session ideas by Nov. 15!!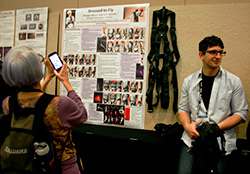 Now is the time to submit ideas for the Costume Design and Technology Commission's Poster Session for the 2016 Annual Conference & Stage Expo in Salt Lake City. The deadline to submit abstracts is November 15, 2015.
Poster Sessions give an opportunity for designers, technicians, educators, and students share information that is not well known or of their own invention. Have you discovered a new solution to an old problem, a new problem and it's solution, a classroom or management technique, or the results of research? Consider presenting your ideas at the national Conference in Salt Lake City. Tips and techniques about costumes, crafts, hair, and make-up from designers, technicians, teachers and students are welcome. More information is available here.
Submissions are blind juried by the CD&T Commission Poster Selection Committee. Ideas must be presented in the form of an abstract, no more than 200 words by November 15, 2015. Selected posters are due for review on February 9, 2016. Following presentation at the annual Conference, posters will be published in the USITT Digital Archive. Instructions for submitting a proposal can be found here.
Poster presentations are widely accepted as meeting the requirements for scholarly publication. Once accepted, participants are considered Conference presenters and may gain access to funding from their institutions.
The deadline to submit an abstract for the Costume Design & Technology Poster Session is November 15, 2015.
All submissions will be blind juried by the Costume Poster Selection Committee for presentation at the 2015 Annual Conference & Stage Expo in Salt Lake City, Utah.
Questions can be directed to Jeffrey Lieder, lieder@bard.org.