News & Notices
Salt Lake's Myhre to Receive 2016 DeGaetani Award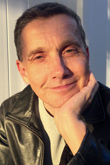 Keven Myhre, a Salt Lake City, Utah, theatrical designer and director, will receive USITT's 2016 Thomas DeGaetani Award at USITT 2016 March.
The Institute annually honors a key contributor to the performing arts in the region of its Annual Conference & Stage Expo with the Thomas DeGaetani Award.
Myhre has spent over 30 years in Salt Lake theatre, most of the past 20 with the Salt Lake Acting Company, the city's regional theatre company. He has been producer, director, actor, set designer, costume designer, lighting designer, and sound designer. He is currently Production Manager at Kingsbury Hall at the University of Utah.
He received the Mayor's Artists Award in the Performing Arts in 2009. In 2008 he was awarded the City Weekly Award for directing The Clean House and Moonlight and Magnolias at SLAC. His more recent directing credits include Bloody, Bloody Andrew Jackson and Red.
Myhre designed all of SLAC's sets and many of its costumes over the last 18 years. He has also designed 16 sets for Salt Lake City's Grand Theatre and sets for According to Coyote, West Side Story, Crow and Weasel, and South Pacific at Sundance Theatre. His designs have been seen at Pioneer Memorial Theatre, Utah Musical Theatre, Utah Arts Festival, Egyptian Theatre, Kingsbury Hall, and the Babcock Theatre.
He earned his BFA from the University of Utah and his MFA in theatre from the University of Michigan.
Named for USITT's first president, the Thomas DeGaetani Award recognizes an outstanding lifetime contribution to the performing arts by an individual or organization. Past recipients include Cleveland's Playhouse Square (2015), Fort Worth Opera General Director Darren K. Woods, and the Children's Theatre of Charlotte.
Here is a brief interview with Myhre:
USITT: What is your reaction to being chosen for this award?
Keven: I am very amazed and honored to receive USITT's Thomas DeGaetani Award! Time whizzes by. For over 30 years, I have been thankful to have a career in the theatre. The people I have had the good fortune to work with have enriched my life greatly. I am looking forward to the conference in Salt Lake City because the last one I attended was in Milwaukee back in 1990!
You have played roles in Salt Lake City theatre over the years. What was your favorite?
Over the years, I have been employed in just about every aspect of theatre from executive producer to janitor. Whatever the job, my focus was always integrating with the team to get the show up and ready for the audience. I've thoroughly enjoyed my varied work experiences and career in the theatre. However, the experiences I most appreciate came during the 12 years I spent helping Washington Elementary, a Title 1 School. I provided teachers technical and design support for their annual Shakespeare production, acted by sixth graders. This was simply a wonderful time promoting arts awareness for the next generation of theatre artists/goers. It was sad when the school had to cut the program due to funding. I'd love nothing more than to see programs like this resurrected, so underprivileged students have a chance to act in and experience the magic of live theatre.
How did you get involved in theatre?
My love for theatre started in nursery school. My family was living in England at the time, and I got to go to a production of Cinderella. I remember sitting in the balcony completely mesmerized by the pumpkin transforming into Cinderella's carriage. That was it. I was hooked. After reading Nathan West's Day of the Locust, a story about a set designer going to decadent Hollywood in 1930s, I enrolled in the high school tech class. I ran follow spot, did some set construction, and stage managed; but it was the class project of designing and building a model for The Miracle Worker that really interested me. I started my college career at the University of Utah with a major of "undeclared." For extra credit in my Liberal Education Theatre class, I went to a guest lecture by New York opera designer Robert O. Hearn. His word inspired me to choose set design as my major. The rest, as they say, is history.
How did you get such diverse experience in so many disciplines of theatre?
It may be cliché, but I've heard it said that the only reward for a job well done is simply more work. Some may view this as burdensome. Not me. I was happy to keep saying, "Yes!" to the next new experience. Fast-forward a couple of decades, and the memories, experiences, and adventures really start to accumulate.
Being from Salt Lake, can you tell us anything to get us psyched for our 2016 destination?
Downtown Salt Lake City is an ideal destination for a conference! Whatever your interests, you're sure to find something to your liking. The downtown area is full of world class shopping and fine dining. We even have wine bars, microbreweries, and The Tavernacle (a unique karaoke bar with a dueling piano act). The downtown area is very walkable, but if you prefer, there are bicycles for rent and the light rail system we call Trax. For the more adventurous, grab your friends and take a quick city tour on a family fun bike.
The theatre scene offers large Broadway-style touring productions to comedy clubs. We also have a ballet and symphony along with several small professional theatre companies that promote local playwrights and new works. The Utah Museum of Contemporary Art is near the convention center hosting USITT 2016. Next door to the convention center, at Abravanel Hall, you can appreciate a 30-foot tall glass sculpture by Dale Chihuly. If you like architecture, check out the Exchange Place Historic District or O.C. Tanner Building, formerly the Hansen Planetarium. The spa services at the Grand America Hotel are unparalleled. And, of course, no description of downtown Salt Lake would be complete without mention of the historic and world-famous Temple Square.