News & Notices
2016 Special Citation: David Rodger & Deborah Hazlett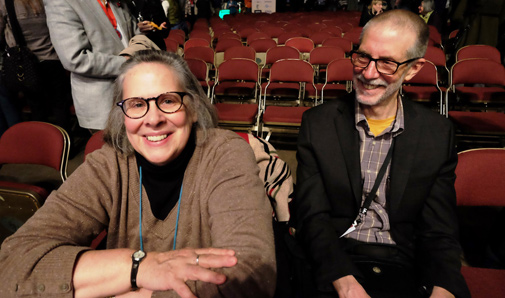 Composer Stephen Schwartz wrote a remarkable song located in the middle of his Broadway classic Wicked, entitled "For Good."  There is a central theme throughout the number that is captured in this phase: Who can say if I've been changed for the better? But because I knew you, I have been changed for good.  Because the Institute has been "changed for the good" by our relationship with two very special individuals, the Board of Directors of the Institute will issue the following Special Citation at USITT 2016 in Salt Lake City.
To David Rodger and Deborah Hazlett of Broadway Press, in recognition of twenty years of outstanding editorial and artistic direction of the Institute's journal, Theatre Design and Technology magazine, and for meritorious leadership of the "Designs of" book series.
As was previously announced with this past spring issue of TD&T, David relinquished his role as editor and Deborah her role as art director, but this remarkable team's impact on the Institute will be felt for years to come.
In 1995, they were chosen by USITT to take over the helm of TD&T. In addition to twenty-years of producing the journal, this association has led to several book projects, including the Tech Expo catalogs from 1997 through 2011, the catalog for the 2007 USITT exhibit to the Prague Quadrennial, edited by Bobbi Owen, Inspired Teaching by Erik Viker, Late & Great: American Designers 1960 – 2010, edited by Bobbi Owen, and nine editions of the Designs of series, featuring Willa Kim (by Bobbi Owen), Ming Cho Lee (by Delbert Unruh), Tharon Musser (by Delbert Unruh), Abe Jacob (by Richard Thomas), Jules Fisher (by Delbert Unruh), Carrie Robbins (by Annie O. Cleveland and M. Barrett Cleveland), Tony Walton (by Delbert Unruh), Ann Roth (by Holly Poe Durbin and Bonnie Kruger), and Douglas W. Schmidt (by Annie O. Cleveland and M. Barrett Cleveland).
Fortunately for all of us, David and Deborah will remain members of the Institute and plan to continue to provide editorial support for the Designs of series and other future special projects.  All of us can shout a resounding "Yes!" to the question of who can say whether we have been changed for the better.  Because we knew you, we all have indeed been changed for good. Thank you, David and Deborah!