Commissions
Lighting Studio: Salt Lake 2016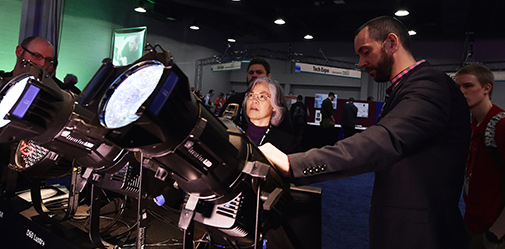 The Lighting Design & Technology Commission presents an exciting new venture for USITT 2016 in Salt Lake.
The Lighting Studio will bring together professionals from the working industry as well as faculty and students from across the country to... learn, play, demonstrate, challenge, engage, and compete.
The Studio will be all about individual time to handle the gear, learn how to use it, experiment with color mixing, programming, pre-visualization, and more! The latest technologies and the latest industry developments will be literally at your fingertips.
2016, the first year of the Studio, will be focus on color mixing, LED vs. traditional fixtures with gel. Several manufacturers will be supplying gear; lights as well as programming consoles for participants to experiment with. We'll have designated "challenges" where you can compare your skills against others, or you can just "free play" to follow your own creative dreams.
We hope you'll join us on this inaugural year of the Lighting Studio and help us provide you with the training and experiences you need to be more successful in your production work!