News & Notices
Announcements
Member Authors Sought for USITT 2016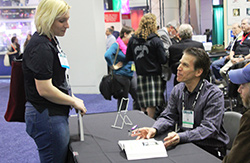 USITT members who have recently published a book on theatrical design or technology can be part of the Member Author Book-Signing event at USITT 2016 in Salt Lake City!
Member author books also will be sold at the USITT bookstore at the Salt Palace Convention Center during the 2016 Conference & Stage Expo March 16-19.
Any USITT member who has had new work published in the past year is invited to be part of this special program. Authors will come together for a single book-signing reception – a great opportunity to promote a book and help USITT share and celebrate members' work.
The deadline to be added to the book-signing event is Dec. 15, and books must be printed and available for sale by Dec. 31. Anyone interested should contact Carol Carrigan, carol@usitt.org, or 800-938-7488, ext. 106.
ETC's Fred Foster Receives Lifetime Recognition at PLASA London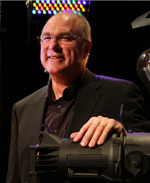 Fred Foster, CEO of Electronic Theatre Controls, Inc. (ETC) received the UK's Knight of Illumination Lifetime Recognition Award at PLASA London on Oct. 5.
"The committee was unanimous in our decision to present this year's Lifetime Recognition Award to Fred Foster for his astounding influence on performance lighting technology and to celebrate the innovations achieved with his colleagues at ETC," said Durham Marenghi, who introduced the award. "We also wanted to recognize Fred's support of theatre across the board from training and all the way through to manufacturing".
Fred commented: "It's a great honor to receive this award. I've always been proud to work with ETC and within this great industry. The most important people, however, are you, the lighting designers, who make the industry so good. Thank you to you all, and to the KOI Awards."
Previous winners of this award include lighting designer Richard Pilbrow in 2011, Bryan Leitch in 2012, Ian Dow in 2013 and Brian Croft in 2014. The category is named in recognition of former Clay Paky commercial director Enrico Caironi (1947 - 2011), whose inspiration and enthusiasm created and subsequently shaped the Knight Of Illumination Awards.
ETC is a longtime Contributing Member of USITT and Fred Foster has been a presenter and a fixture at USITT's Annual Conference & Stage Expo. USITT congratulates Fred on this well-deserved award.
TCG: Expands Program for Military Families, Announces New Board Members
Theatre Communications Group (TCG) recently announced the expansion of the Blue Star Theatres program and new appointments to TCG's Board of directors.
There are now 136 theatres in 35 states that are now part of the Blue Star Theatres program, a partnership of TCG and Blue Star Families, the largest chapter-based non-profit organization serving military families. To recognize the contributions of military personnel and their families, the program supports a variety of theatre offerings such as unique programming and special discounts.
ETC welcomed five new members to its board of directors: Adrian Budhu, managing director, The Theater Offensive, Boston, Massachusetts; Christopher Acebo, associate artistic director, Oregon Shakespeare Festival, Ashland, Oregon; Meghan Pressman, managing director, Woolly Mammoth Theatre Company, Washington, D.C.; Nikkole Salter, actress, playwright, educator, and arts advocate, Bloomfield, New Jersey; Harold Wolpert, managing director, Roundabout Theatre Company, New York City.
Board officers remain who remain include Diane Rodriguez, president; Sarah Bellamy, vice president; Kevin Moriarty, vice president; Tim Jennings, treasurer; and Jonathan Moscone, secretary.
For more on TCG, visit www.tcg.org/index.cfm.
ETCP SMEs Receive Volunteers of the Year Award
PLASA will present the 2015 Volunteer of the Year Award to the ETCP Entertainment Electrician Subject Matter Experts (SMEs) for their work with the ETCP Program. The award will be presented at the PLASA AGM at LDI 2:30 to 4:30 p.m. October 22 at the Las Vegas Westgate Casino and Resort.
The recipients will be as follows: Rick Baxter, Eric Bouchard, Don Earl, Jeanette Farmer, Ian Foulds, Tony Giovannetti, David Hatch, Mitch Hefter, John Huntington, Dave Loftin, Jim Maloney, Mark O'Brien, Martin Eric Rimes, Alan Rowe (co-chair), Steve Terry, Abby Tutorow, Steve Vanciel, Ken Vannice, (co-chair), and Keith Woods.
It is vital that ETCP's development process and the examinations themselves are professionally sound and legally defensible. The volunteer SMEs defined the necessary content areas on the exams and wrote the exam questions. They began work in 2005 for the first round of Entertainment Electrician testing at LDI in 2006, and the first practice exams were created in 2009.  To keep the electrical exam fresh and current, in 2014 they created a completely new bank of questions to add to the pool. This summer, they laid the groundwork for a set of practice exams that will launch this fall.
The Volunteer of the Year award was created to honor Frank Stewart's unrivalled service to ESTA/PLASA during the 18 years that he served as its treasurer. This award recognizes extraordinary effort by a volunteer or group of volunteers during the previous year.
Gateway, Poster Sessions, Mentor Award Nominations Deadlines Near
Three deadlines for USITT programs are set in November.
Gateway – The deadline is November 15 to nominate a student for the Gateway mentorship program. It will match 12 students from under-represented groups in theatre technology with professional mentors from a similar background and field to participate at USITT 2016. Visit www.usitt.org/gateway to nominate a student.
Poster Sessions – Abstracts for Poster Sessions  are due by November 15.  The sessions offer a chance to share work in Costume Design & Technology, Education, Lighting Design & Technology, or Scene Design & Technology at USITT 2016. Guidelines and applications are available at www.usitt.org/poster.
Wally Russell Mentor Award – Nominations for the second Wally Russesll Mentor Award close on November 30. Nominate a technical theatre professional who served as a mentor and helped others succeed at www.usitt.org/wally. The award will be presented at USITT 2016 Conference & Stage Expo.
It's Not Too Late for LiNK, Nov. 13-15 in Atlanta
The LiNK theatre grad school recruiting weekend presented by USITT and SETC is a unique opportunity for aspiring students and colleges offering advanced degree programs to connect. It's affordable, conveniently located at the Atlanta Airport Hilton, and has a small-group format that practically guarantees that the right students and schools will find each other.
Grad school candidates in all theatre disciplines can still register for $60 for the weekend, including the Friday night LiNK Soiree, right up to the event and on-site. For more info, visit www.usitt.org/link or contact Christine Troscher, Christine@usitt.org.