News From
Around the Institute
USITT Names in the News...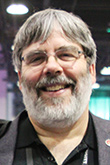 President Mark Shanda took office this summer and was interviewed in Live Design Online magazine in September. Shanda talked about his involvement in USITT and offered some great advice for young people seeking careers in the performing arts and in live entertainment design and technology. See the interview here.
Management Commissioner David S. Stewart wrote an article on USITT's diversity efforts, "The Keys Are in the Room," published in Stage Directions magazine in September. He chronicles his and USITT's involvement in an issue that has become a mission for Stewart and the Institute. Read the story here.
Two past Young Designers & Technicians Award winners, Janie Bullard and Patrick Rizzotti, were praised in a New York Times review of the world premiere of The People Before the Park at Kean University. Sound designer Bullard was the 2015 Rising Star; scenic designer Rizzotti won the 2014 USITT Scene Design Award sponsored by Rose Brand. See the review here.
Eric Rouse, VP Special Operations stars in a backstage rigging tour of Lookingglass Alice for the first installment of the Denver Center for the Performing Arts' "No Small Parts" video series.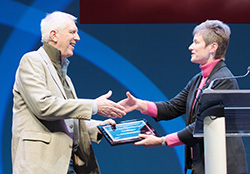 Lighting designer Ken Billington, who won the first Wally Russell Mentor Award at USITT 2015, was inducted into the Theater Hall of Fame, located in the lobby of Broadway's Gershwin Theatre. Congratulations, Ken! Read more about him here.
USITT 2015 Rising Star Winner Chris Wood got "the last word" in an Opera News review of this summer's Utah Festival Opera & Musical Theatre's production of Le Bohème. A lighting and sound designer, Wood also teaches at the University of Nebraska-Omaha. See the review here.
Stage Managers Day 2015
On Oct. 10, USITT participated in celebrating the third annual International Stage Manager's Day – or, as it's called in the UK, Stage Management Day.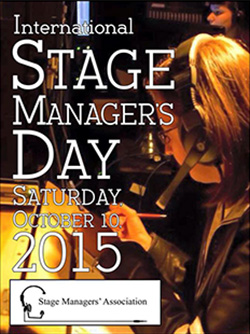 Led by the Stage Managers Association -- chaired by USITT Fellow Elynmarie Kazle – and Britain's Stage Management Association, the day honored SMs everywhere by posting and sharing messages, memes, photos, and thank-yous with the hashtag #StageMgrs15.
The hashtag was trending on Twitter for several hours on Oct. 10, and USITT contributed posts about our Stage Management Mentor Project, what some of our past USITT/Clear-Com Stage Management Award winners are doing now, and the Management Sessions being offered at USITT 2016. We also shared some of our fave SM memes and cartoons, including Q2Q Comics' famous Anatomy of a Stage Manager.
Thanks to everyone who followed USITT on Stage Manager's Day and helped make Oct. 10 a great day to be a stage manager!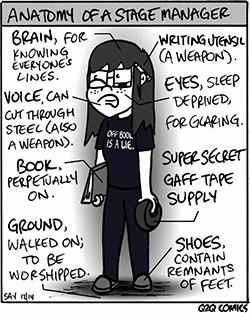 USITT Goes to London
USITT and Britain's Technical Theatre Awards shared Stand D70/D71 at PLASA London October 4-6. The booth was built with ModTruss, an award-winning green building system, by Britain's Triple E Ltd. USITT President Mark Shanda, Executive Director David Grindle, and USITT 2015 KM Fabrics Technical Production Award winner John Van Arsdale traveled to London for the show. The stand got lots of traffic and looked great. Visit ModTruss at USITT 2016 in Salt Lake City, Booths 1138/38!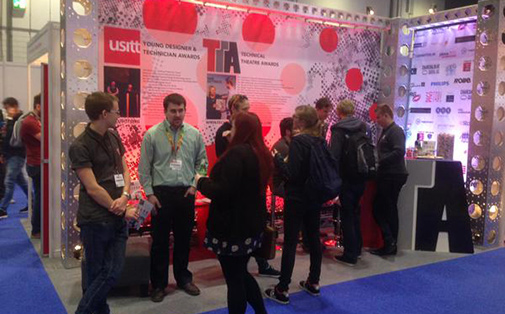 Members: Have news to share?
Articles, videos, blog posts or speaking events to announce?
Tell us at janet@usitt.org.