Engineering Commission
Seeks Submissions to Excellence in Thesis Research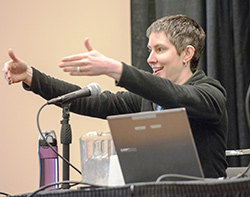 USITT's Engineering Commission is piloting a program to recognize excellence in thesis research. The goal for this program is to acknowledge students who have pursued innovative and challenging topics that further live entertainment production and to share these studies with the larger Institute.
Recent graduates who have exhibited rigor, innovation, and creativity in their research are eligible to submit their papers for consideration. Papers will be juried by a committee of industry professionals, not academics. "Excellent" theses will be focused on new technology, innovative applications, or deeper understanding and application of engineering principles to theatre that may challenge and advance our industry.
Selected graduates will present their findings in an Engineering Commission session, titled Excellence in Engineering Technology Research: Graduate Paper Presentation, at the 2016 USITT Conference and Stage Expo in Salt Lake City. These presenters will receive complimentary full conference registration to the USITT conference in Salt Lake City plus some supplementary support to attend the conference. After the conference, these graduates will be asked to author a four to eight page article for publication in TD&T about their research topic.
Qualifications for Consideration
Thesis research must be focused on advancing understanding in an area of Entertainment Technology.
Thesis work must have cumulated in graduation with an MFA or equiv. in the last two years (May 2013 to September 2015). Work resulting in a MS or MA in an engineering or engineering technology field will also be considered, but the application of the work must be specific to Live Entertainment Technology.
Nomination Process
Application can only be initiated by nomination.
Candidates must be nominated by a faculty member from the degree granting institution.
Nominations for this award should be submitted by to Kimberly Corbett Oates (Commissioner of Engineering Commission) no later than Nov. 20, 2015.
Faculty nominations should include the following:
The student being nominated, their current contact information, and their academic qualifications.
The title of the thesis and a brief summary or outline of the project. (Less than one page, please)
Email materials to kcorbettoates at gmail.com with the subject line "USITT Engineering Thesis."
Submission and review process
Nominees will be contacted with further application instructions.
Application materials will be limited to a current resume, one to two page abstract, and the final, complete thesis manuscript in PDF.
Application materials must be submitted by Nov. 30, 2015 to receive consideration.
A panel of industry experts will review the submitted manuscripts and will select the papers that demonstrate excellence for presentation at the 2016 Conference.
Up to three papers will be selected. Selected authors will be notified prior to 1 February 2016.