The Last Word:
Exploring Wigs to Digital Design in the Midwest
The Midwest Regional Section kicked off its fall events with several diverse offerings for its members.
Valparaiso University
The university welcomed the Section for two all-day events on August 29. In the morning session, theatre professor Ann Kessler taught participants how to work with inexpensive synthetic wigs, hairpieces, and extensions to learn about sizing wigs, using wig caps, creating pin curls, setting and steaming curls, and proper care and storage. In the afternoon, participants worked on make-up techniques and methods of the late 17th century which included personalized make-up worksheets, blocking out eyebrows, and proper make-up care and storage.
Simultaneously, Alan Ernstein, assistant professor of design/technical theatre, taught the basics of scene painting including the different types of paints, techniques, and color theory.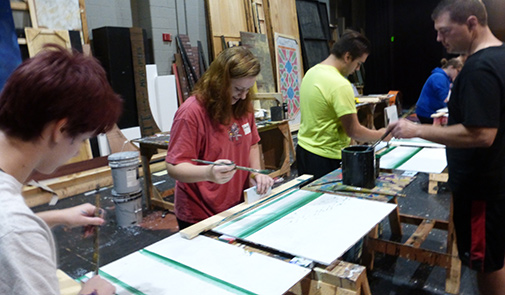 University of Wisconsin-Eau Claire
The university hosted the Section on September 25 and 26 for four sessions. On Friday, participants were led through the steps involved in silk resist dying techniques by costume designer Amanda Profasier.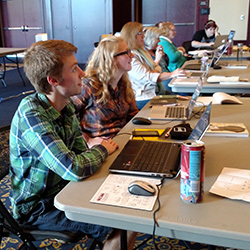 "Amanda was a wonderful instructor who guided us through the process of painting silk scarves using Gutta Resist," Kathleen Donnelly, a participant, said. "Once the scarves were painted, she showed us how to set our scarves with a canning pot and an aluminum conduit and cap, all from the local hardware store. She showed us many of the garments, including kimonos,that she had created for a variety of productions using this silk painting technique."
For those interested in lighting, ETC Training Specialist Ellen White taught programming on the ETC Gio console on Friday followed by the ETC Ion console on Saturday.
Participant Tom Nizinski said the very long drive from Chicago to Eau Claire was "well worth it to get my hands on the Gio and Ion consoles and learn some new tricks at an incredibly low price."
The fourth session was with Costume Designer Annie O. Cleveland, author of Digital Costume Design and Rendering, who taught a digital design workshop.
"Students were great, and I did a follow-up with one of them to give her some contacts in the world of puppetry," Cleveland said. "Anytime I can help a student, I feel like my time has been well spent."
Section leadership thanked all the presenters and everyone who set up the spaces for these sessions, especially James Zwicky, assistant professor and technical director at the University of Wisconsin-Eau Claire.