News From USITT Fellows
Apply for 2016 USITT Early Career Mentoring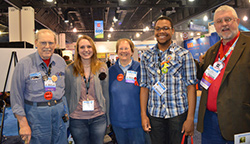 USITT's Fellows are continuing a program of career mentoring designed to target Early Career Members who plan to attend the USITT Conference & Stage Expo in Salt Lake City in March 2016. An application process has been established to identify and select two ECMs to participate in this program. Two mentees will be chosen based on their background, work history, demonstrated competence in their field of interest and ability to articulate their future goals. Successful candidates will be provided with Full Conference Registration and $1,000 to assist offsetting their conference expenses.
The Mentor and the ECM Mentee will have an initial one hour "get acquainted" meeting at the start of the conference. From that point they would mutually agree upon how often, and when, they will meet during the Conference and what their objectives will be. Together they may wish to attend specific sessions, tour the Expo Floor, meet some of the Mentor's colleagues and frequently consult on areas of special interest. It would be the ultimate goal of the program to establish a long-term relationship between the Mentor and Early Career Member.
A panel will be appointed by the Chair of the Fellows to receive applications and select two Early Career Member applicants for the 2016 program.
The deadline for applications is December 15, 2015. Applications received after that will not be considered.
Eligibility:
Must be a USITT Early Career Member
Must have been a Member of USITT (any category) for a minimum of two years
Must agree to attend the Salt Lake City Conference for the full conference period
Must agree to provide a written report of their Mentoring experience by May 30, 2016
Application Materials to be submitted electronically must include:
Application Cover Page
Outline of short and long-term goals, including areas of interest and type of entertainment career applicant wishes to pursue (no more than one page)
Résumé (no more than a one page)
Supporting documents (no more than six images)
Written narrative explaining what establishing a Mentee / Mentor relationship will mean to applicant's career (no more than one page)
Letters of support (no more than two)
Submitted via email to Richard Devin devinr@colorado.edu