Sound Commission
Offers Inclusion Initiative Scholarship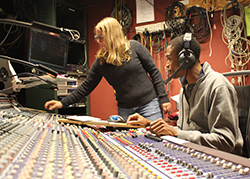 Join the next generation of sound designers and technicians at USITT this year!
The Sound Commission is looking for early career professionals who are generally underrepresented in the field of sound design and technology. This scholarship is designed to help defray the cost of the conference in order that unique voices and perspectives might become more involved in the community.
Participants will be able to attend workshops, network with industry professionals, showcase their skills and receive mentoring from veteran sound designers and educators.
We ask you to join in planning sessions and be a part of the commission that shapes the course of sound design & technology at USITT!
Interested candidates should provide a current resume, examples of their work through an online portfolio and two references who can attest to your work and interest in the field of sound.
The scholarship provides funding to help cover the cost of transportation, housing and conference fees.
The deadline to apply is Jan. 15, 2016. Please send application materials to Sarah Pickett, pickett@cmu.edu.