Safety & Health Commission
Seeks Safety & Health Mentors, Mentees for USITT 2016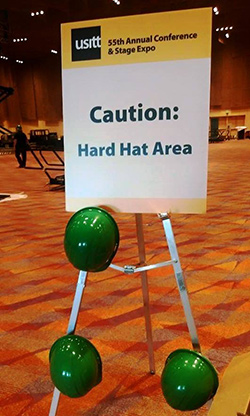 The Safety & Health Mentoring Project is looking for participants – mentors and mentees – for USITT 2016 in Salt Lake City, Utah.
Our world of live entertainment has changed dramatically over the last several decades. Our venues have changed, our casts and crews have changed, and our show-going public has indeed changed. The world is more 24/7; the hustle and bustle never seems to take an intermission, which means we can't either.
Safety has become more than a buzzword. The entertainment industry and USITT's Safety & Health Commission responded by officially launching the Mentoring Project at USITT 2015 in Cincinnati.
Mentors responsible for safety and health issues in their organizations shared the good, the bad, the ugly, and, yes, the fabulous with those looking for more guidance in a safe space with no question off limits.
At USITT 2015, we heard the questions; and most of us have probably asked them at one point in our career or another. Questions like:
Have OSHA reporting guidelines changed? And what is OSHA anyway?
What do you mean we can't block a Fire Extinguisher and there's an annual inspection?
You can't stand on the top two rungs of a ladder? Since when?
What do we do in the event of an evacuation?
What the heck is an IIPP? How about a PPE?
It is estimated that over 70% of Fortune 500 companies now offer some form of mentoring to their employees. That's a lot of knowledge sharing! At 2014 USITT in Fort Worth, Safety & Health experimented with a pilot version of our new mentoring program. We followed up last year in Cincy with the successful launch of the Safety & Health Mentoring Project. The biggest highlight was a walking/working inspection of the Duke Energy Center with its management team, where participants got to see behind-the-scenes and learn all about the operations.
Our mentees were entry level professionals, students, and even mid-level professionals just looking for guidance. They were from college backgrounds, public theatres and private production organizations. This diverse group had one important thing in common: recognition that they needed more Safety and Health knowledge.
Here's a former mentee, Josh Sherr (Dallas) on his experience:
"As an experienced production manager, safety and health has always been part of my portfolio. As we produce at a more complex level, more focus on the wellbeing of our colleagues is required. Better solutions are needed. I have always made an effort to share my knowledge selflessly, for the next set of theater practitioners. To now have seasoned safety and health professionals sharing information with me in the same way has proved to be invaluable."
As we gear up for USITT 2016 in Salt Lake, the Safety & Health Commission seeks people interested in volunteering their time and expertise as Mentors. If you're someone who wants more Safety and Health knowledge, ask to be a Mentee. For either opportunity, contact greg.petruska@nbcuni.com.
And in the spirit of sharing knowledge:
OSHA is the Occupational Health and Safety Administration and you can find more information here.
An IIPP is an Injury and Illness Prevention Program (or I2P2 as OSHA refers to it). It is already a requirement in some states and several national companies have already adapted the program to suit their needs. The OSHA Fact Sheet can be found here.
As of Jan. 1 2015, OSHA changed the parameters for what must be reported to the agency and the timeframe. More info on that is available here.