Spotlight on Giving
I Believe in USITT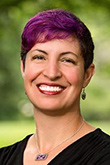 Through my work on the Conference Committee and now on the Board, I have discovered what an amazing organization USITT is. It is forward-thinking and leading the industry in safety, rigging, innovation, training, and diversity. I believe in USITT. I believe in the mission. I believe in the quality of programming and training opportunities. I believe in the positive effect it has had in my students' lives and careers.

I am proud to support an organization that promotes a lifetime of learning at all levels whether it be the New Century Fund or Diversity Initiative that invest in the future professionals of the industry or the Edward F. Kook Fund that invests in research, or the Rigging Safety Initiative that provides training and inspections in schools across the country.
Tammy Honesty, scene designer and assistant professor at Western Illinois University Theatre and Dance.
Donors from September 15 to October 14, 2015:
Kook Fund
Alexandra Bonds
Paul Brunner
Dennis Dorn
Randy Earle
Sylvia Pannell
Loren Schreiber
New Century Fund
June Gaeke
Jennifer Kenyon In Memory of Bill Kenyon & Fred Raker
Ira Lichtman
New Century Fund - Diversity
Kasey Allee-Foreman
Rafael Jaen
Shane Kelly In Memory of Tayneshia Jefferson
Michael Mehler
Jesse Portillo
New Century Fund - Rigging Safety
Lori Furcinito
Caitlin Hurban
Samuel H. Scripps International Fund
Alexandra Bonds
Loren Schreiber
USITT Fund
Jean Montgomery
Mark Shanda
Tymberley Whitesel
General Operations
Carolyn Satter
Sherry Wagner-Henry
Emily Gill
Debra Sherrer
Mickey Henry
Bill Browning
Sylvia Pannell
MJ Sedlock
Steven Machlin
Dennis Dorn
Loren Schreiber
Jean Montgomery
Dan Culhane
Carl Lefko
Fellows Fund
Alexandra Bonds
James Moody
Randy Earle
Patricia MacKay