News & Notices
Member Spotlight: Kucharski Expands the World of Costume Design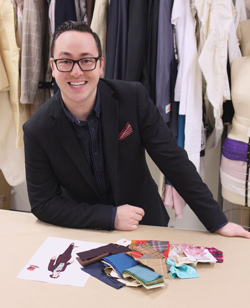 Joe Kucharski, costume designer, professor at Baylor University, Waco, Texas, USITT Costume Design & Technology Commission, and Editor of Tyranny of Style blog.
USITT: How did you get started in costume design?
Joe: I grew up in Tucson, Arizona, and was thrown into a drama class in middle school. I was the shyest kid, and the idea of having to be on stage was terrifying. I begged the teacher to find anything else for me to do. We already had a set and lights, but I was told I could make the program and pull the costumes. We borrowed costumes from our local high school, which had a big theatre department. I had a blast and was hooked.
I followed theatre into high school, and costume design just stuck for me. It was the crossroads of so many things I loved: storytelling, history, psychology, and clothing.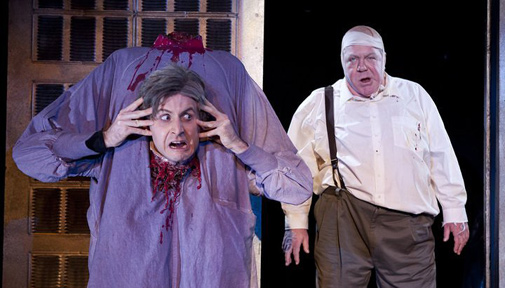 My undergraduate career was all over the place. I transferred to six different schools stopping often to work. All together it took me nine years to complete my degree.
I was supporting myself and finding really exciting work in retail visuals, and eventually at Disneyland. I worked as a costumer and costume designer for a year at Disneyland, which proved one of the best educations for me. At that point, I looked at the successful costume designers around me and knew I needed to finish school if I wanted a similar career. I finished my last two years of undergrad at Shenandoah University, graduating with a BFA in costume design.
I wanted more design experience, and eventually to teach, so I went on to get my MFA in costume design from University of California-Irvine. While there I was able to work professionally in the world of themed entertainment. I served as project manager at Custom Characters, one of the largest and most prestigious builders of elaborate theme park parade, show, and meet-and-greet costumes in the world.
After grad school, I went into full-time teaching at the college level and currently balance that with research, writing, presentations, and freelance design.
And how did Tyranny of Style come to be?
Tyranny Of Style was created in sort of an odd way. I had taken my first teaching position out of grad school at a small private university in Ohio, and I felt really isolated. I wasn't connected to the local theatre community and experienced a frustrating lull in freelance design.
I began communicating with other costume designers, as well as sharing opinions and resources on Twitter, but felt the format was limiting. I started the blog as a way to write longer form, but really didn't know what would come of it.
Lyn Paolo (Emmy-award winning costume designer) had been tweeting about designing costumes for a video game, but it was all shrouded in mystery until its release date. I reached out to her to interview her, and she was absolutely lovely and generous with her time and about her process.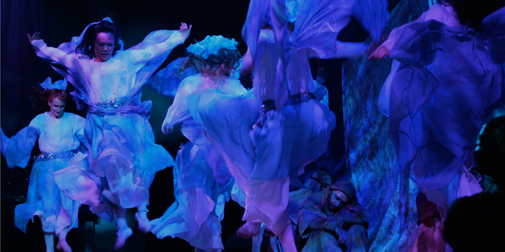 That was my first inkling that this blog could be something bigger. It just kind of snowballed after that, with more and more designers being gracious and opening a window to their process for me to share with readers.
I am really passionate about the big, wide world of costume design, so I've stayed purposefully broad with the site. That's why you'll find articles on the costume design for animated films like Frozen and Big Hero 6 alongside articles on Gregg Barnes' beautiful Broadway costume creations for Aladdin and Something Rotten!, and the high-tech world of superhero design for Man of Steel and Agents of S.H.I.E.L.D.
Last year I started a new job at Baylor University, and my responsibilities doubled while my free time went to almost nothing. Because of that, I am a bit more selective of what I cover on the blog. I publish fewer articles per month, but I'm always looking for qualified contributors if anyone is interested!
Even when I'm not publishing a new piece, I am always using Twitter, Instagram, and Facebook to share the latest in costume design, costume history, fashion, and clothing technology. As part of my own design work, I am constantly running across inspiring images or stories, and I enjoy sharing those with followers on social media.
While TyrannyOfStyle.com started as a side-project, it has opened an incredible number of doors. Because of the site, I have been invited to organize and moderate panels at MAGIC fashion tradeshow in Las Vegas, Nevada, and Comic-Con International in San Diego, California, among others. It has sparked amazing friendships with industry leaders and allowed me to call on those experts to fly out to Baylor University to speak and network with students. It has truly blossomed in an exciting way that I never would have imagined.
How did you get involved in USITT and what drives your involvement?
I first started attending the Conferences back in grad school as a way of networking with other designers and joined for access to the job listings as I was preparing to graduate. Now that I work in higher education, USITT is an invaluable resource for connection with other educators, opportunities for students, and news on technology.
I serve as a way to help students and educators better understand the latest advancements in the field, and to stay connected to emerging patterns and techniques that will equip them to become better artists, innovators, and storytellers.
Tell us some of your favorite designers and costumes. What gets you excited about the future of costume design?
Some of my favorite designers? This is tricky, because unless I've got 12 pages, I'm going to have to leave someone out. But here goes, just a few of the highlights.
For film I cannot get enough of the smart, sleek, and graphic work that Michael Wilkinson and Michael Kaplan regularly churn out. There is a reason these talented gentlemen are currently at the helm of The Justice League and Star Wars franchises.
For television, I just love what Ann Foley is doing on Agents of S.H.I.E.L.D. and Lyn Paolo is doing on Scandal. I'm also a huge fan of the subtlety of Jenny Gering on The Americans.
For theatre, there is just no one better than Gregg Barnes! I am regularly blown away by the brilliance of how he combines a dozen fabrics in a single garment.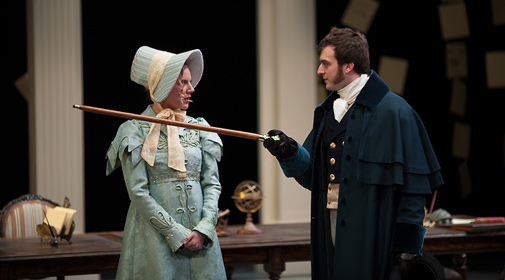 And in the unsung world of theme park costume design, there is no one doing more exciting work than Mirena Rada. From 3D printing, to advanced lighting integration in costumes, Rada is one of the smartest and most creative designers in the business.
For me, my favorite costume I've designed tends to be the one I am working on right now. I have a really exciting project I am working on for a major theme park, but I've signed every non-disclosure statement, so just trust me that it's a blast! In general, I would say my work in themed entertainment costumes while at Disney and Custom Characters were probably my most fulfilling. The level of creativity allowed, coupled with the need for complex problem solving, is my favorite balance.
I love where we are with technology in costume design and only see that going further. Digital technology for fabric sublimation, dimensional fabric effects, and 3D printing are only going to get more sophisticated and accessible for costume designers at every level. It's an exciting time to be a costume designer.
Thank you! We'll see you In Salt Lake!