Conference & Stage Expo
New & Returning Exhibitors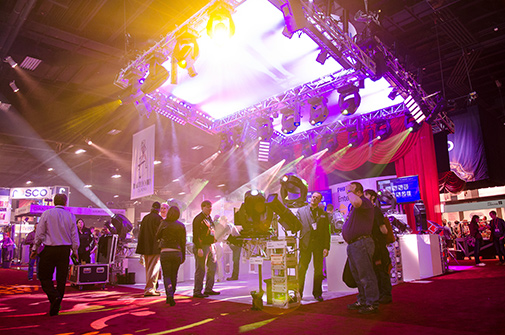 Here's an interesting statistic: Stage Expo has averaged 60 new (or returning after a number of years away) companies each year.
Why is that happening? What is it about USITT that 20 percent of the entire expo consists of these new companies?
A number of them are regionally based companies. A local distributor for lighting and sound equipment will exhibit one year, and a different company the following year. That's part of the advantage of USITT's model of bringing its Annual Conference & Stage Expo to different cities each year. If the site was Orlando and Las Vegas all the time, the Institute wouldn't be able to reach and serve local members in places like Salt Lake City, St. Louis and Fort Lauderdale (USITT's next three locations).
There also has been growth because of outreach into new industries. USITT's Commissions have helped identify potential companies they would like to see exhibit at the event. These companies are then contacted by via phone, email, and in person events promoting USITT's members. In 2015, USITT representatives visited the Sewing Dealers Tradeshow, InfoComm, IAVM's VenueConnect, and the National Safety Convention. Institute representatives also visited the headquarters of more than 25 companies. The goal is to show the manufacturers who USITT is and how working together grows the entertainment production industry.
This philosophy over what the Stage Expo is has made an impact; 37 percent of attendees at the Stage Expo are students and early career members. That comes out to about 1,500 people. Many of the exhibitors are looking to reach them whether for graduate school programs, job placement, or making an impression with equipment for future sales. Students are tomorrow's buyers.
That leaves 63 percent of the audience as professionals in the entertainment production industry. Some of them are professors and those who teach in academia. Others are consultants and designers who come to the Stage Expo to meet vendors and shop for future projects. This is the commercial side. (Yes, even a non-profit has a commercial side.)
Attendees should know that exhibitors need to see a return on their investment into the show to return each year. It is very expensive for those exhibitors to set up their space, travel and ship their materials to each city. Their investment supports USITT not only in producing the event, but in the services the Institute offers year round: scholarships, grants, training programs, jobs board, publications, etc.
Continue to support USITT exhibitors throughout the year. Their trust in USITT is paramount to the industry's continued growth. USITT serves as the network connecting all members -- students and professionals, manufacturers and distributors, production companies and educational institutions alike.
This is the current list of new and returning companies to USITT Stage Expo. This list will grow by March. It's thrilling to see them again.