Conference & Stage Expo
PCPA to Receive DeGaetani Award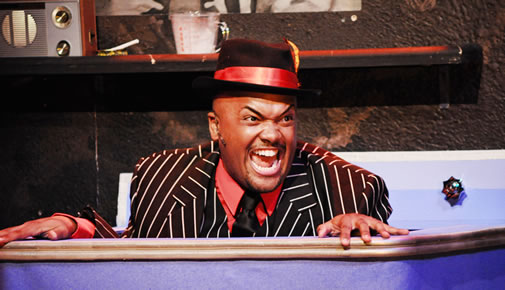 In 2013-14, the PCPA Theatrefest (the Pacific Conservatory of the Performing Arts) will celebrate its 50th season. It is fitting that USITT will honor PCPA, for its long and successful history, with the Thomas DeGaetani Award at the 2012 Conference & Stage Expo in Long Beach, California.
PCPA Theaterfest "is a professional conservatory theatre committed to reflecting and transforming our diverse community with the art of live theatre." The organization subscribes to the goal that "theatre has a vital role and responsibility in the community to enrich cultural literacy and improve the quality of life."

The Conservatory was founded in 1964 under the leadership of Donovan Marley. Since then, it remains the only year-round, resident professional theatre company located on California's beautiful Central Coast. In an area known especially for its wine country and its culinary specialties like Santa Maria-style barbecue, PCPA provides a very important cultural and entertainment resource to the people of Santa Maria, Santa Barbara County's largest city. It also brings theatre to the Solvang Festival Theater, thrilling local and visiting patrons in the city of Solvang, a popular tourist destination in the heart of Santa Ynez Valley wine country, an area made particularly famous by the 2005 motion picture Sideways.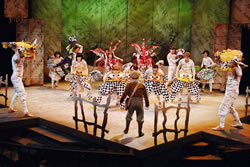 PCPA is an important training ground for aspiring actors, stage technicians, and stage managers. The Conservatory is located on the campus of Allan Hancock College, a public community college. The relationship between the Equity theatre company and conservatory programs based at the college is a unique and highly distinctive result of the merging of public and private interests and financial support.
In 1965, recognizing the cultural and economic benefits of a performing arts facility, Santa Maria voters approved funding to build the Marian Theatre, named after Marian Hancock. In the meantime, beginning in 1967, the conservatory began to accept students from outside the Allan Hancock College district. A new technical program for scenery, properties, and costume construction was established by adding new professional staff members. When completed, the Marian Theatre could seat 448 patrons around a thrust stage. Doors opened on July 10, 1968 with a production of Camelot, featuring Laird Williamson as Lancelot.
In 1971 PCPA held its first performance of Hamlet in Solvang's Hans Christian Andersen Park. Support for a theatre grew quickly through the community, and by 1974 the Theaterfest summer repertory season was in full swing in the newly built, 700-seat, outdoor Solvang Festival Theater. The community built the theatre, in 58 days in the summer of 1974, with the understanding it would be used to present theatrical productions staged by PCPA. The physical stage is nearly an exact replica of PCPA's Marian Theatre stage in Santa Maria, which allows for easier transfer of productions.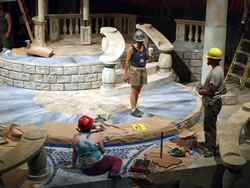 In November 1992, the Severson Theatre opened its doors, providing an intimate and flexible performance space for the company and its patrons.
Included among the more than 10,000 plus emerging theatre artists whose work has graced its stages are Robin Williams, Ralph Funicello, Kathy Lloyd, Belita Moreno, Mercedes Ruehl, Kelly McGillis, Boyd Gaines, Robert Blackman, Patrick Page, and Kathy Bates.
Today, PCPA has a resident staff of over 50 theatre professionals and additional guest artists. They work with nearly 100 acting and theatre technology students and interns each semester. The 2011-12 season features nine productions, including such classics as The Rivals and Three Sisters and musical adaptations of Little Women and Legally Blonde.
The current leadership of PCPA includes Artistic Director Mark Booher, Associate Artistic Director and Conservatory Director of Actor Training Roger DeLaurier, Conservatory Director of Technical Training Michael Dempsey, Managing Director Michael Black, and Production Manager Jeff Allen.