Conference & Stage Expo
Last Call for Stage Expo 2012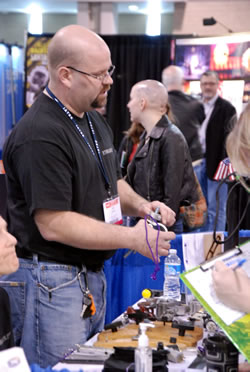 The 52nd Annual USITT Conference & Stage Expo is just around the corner, so this is your final opportunity to book space for Stage Expo 2012. A limited number of booths and tables are available for those who would like to be a part of the show. If you would like to exhibit, but have not reserved a space, please contact Helen Willard immediately at hpwillard@aol.com.
Recent additions to the exhibitor list include; B Street Theatre, Broadway Green Alliance, Cal State Long Beach, Chauvet, Chicago Flyhouse, Costume Inventory Resources, Creative Handbook, University of Delaware, EdTA, Elation Lighting, Doug Fleenor Design, IALD, Leprecon, Montclair State University, Ohio University School of Theatre, OISTAT/WSD, Otis College of Art & Design, Pulp Art Surfaces, Rose Bruford College, SCAD: The University for Creative Careers, University of South Dakota, SIU Carbondale, Stage Managers Association, StageBitz, StageLight, Staging Concepts, Steppenwolf Theatre Company, Timeless Communications, Trinculo's Attic, Tru Roll, Ultratec Special Effects, and Wireless Mic Belts.
For a complete list of Stage Expo 2012 exhibitors, visit the Stage Expo Web Page. Click on a highlighted booth to find contact information and a brief description for each exhibitor. Links are provided to exhibitors' websites so you can learn more about their products and services prior to the show.
Then join the crowd that gathers for the grand opening of Stage Expo on Thursday, March 29. The exhibit hall doors open at 11:00 am, but plan to be there early to be part of the action. You never know what will happen at a Stage Expo Opening. Meet us at lobby level to witness the cutting of the ceremonial USITT gaff tape which officially opens the show. 
Stage Expo will be open from 11 a.m. 5:30 p.m. on Thursday and Friday, and from 9:30 a.m. to 2 pm on Saturday of the conference week.
Plan plenty of time to visit the commercial booths and tables, non-commercial tables, and the very special exhibits which make USITT's Stage Expo a unique show.