News & Notices
The Fellows: A Resource at Long Beach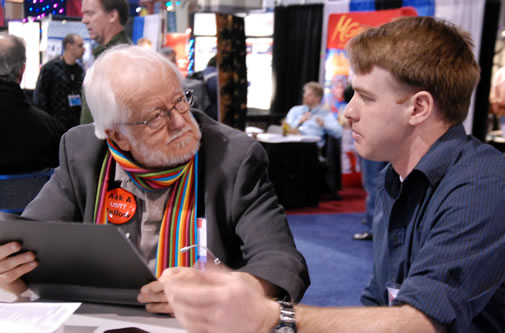 The Institute's Fellows will again be dynamically involved in various activities at the Long Beach 2012 Conference & Stage Expo. Many Fellows will lead or participate in personal development workshops, seminars, panel discussions, committee meetings, mentoring sessions, and Stage Expo exhibits. The Fellows, individually and as a group, continually endeavor to rededicate themselves to the purpose and mission of USITT. Some highlighted events are:
Network Nexus
The Network Nexus booth will be located within the USITT booth at Stage Expo floor. This lounge is designed as a salon for relaxed conversations with Fellows and other Institute members. Everyone is welcome to stop by, have some refreshments, chat with colleagues, meet new and old friends, and just relax between sessions. The Fellows intend to make this area a cordial meeting place where ideas can be considered and information exchanged.
Ask A Fellow
Fellows can be identified by their conference badge ribbons and their distinctive red "Ask a Fellow" buttons. The buttons are meant to encourage all Institute members to engage these "pillars of knowledge" in conversation. The Fellows are a congenial group willing and anxious to share insights and experienced knowledge on many facets of the entertainment industry. We set about to calculate the cumulative years of experience held within the group of 73 Fellows but the total became somewhat unmanageable. Suffice it to say, the answers to many perplexing questions can be found somewhere in the group.
Student Contest / Find A Fellow
USITT and the Fellows are sponsoring a special contest open only to student members. An all-expense-paid, two-day mentoring session will be the prize for each of two student winners.
Contest forms for this "scavenger hunt" will be found at the Network Nexus Booth.
Participants must find, from photos on the form, six Fellows and have each sign the form.
Once the form is complete with the signatures of the six fellows, the form must be turned in at the Network Nexus Booth.
Completed forms will be entered into the prize drawing. The mentoring session will be with a Fellow in the student's area of interest.
Mentoring will take place at the Fellow's home city or perhaps in a project location where the Fellow is working.
The Fellows organizing committee will work closely with the winners to select a Fellow who will be the best possible match for the student.
This may well be a career transforming experience for two student members.