News & Notices
Member Benefits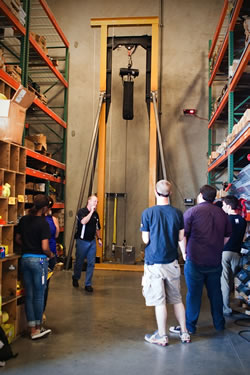 "It's tough to find opportunities to work with advanced systems like this…"
"…[it] made me realize why I love technical theatre."
"It was wonderful to actually feel how much people enjoyed their jobs and the companies they work for."
"It" is Elite Training Las Vegas to be held May 10 to 12. Apply now for a chance to learn in an intensive, hands-on environment.
Elite Training Las Vegas returns through the generous support of Cirque du Soleil, Columbus McKinnon, Stage Technologies, Meyer Sound, Silver State Wire Rope, and coolux International. Thirty-two student and early career members have the opportunity to learn about high end systems from the same trainers that train the staff at Cirque du Soleil in the Resident Shows training center in Las Vegas.
In an effort to expose more young technicians to the advanced systems running in theatres around the world, Elite Training was created to bring the most promising young people together for a weekend of classes, shadowing technicians, and networking with the industry. Participants make their way to Las Vegas and meet the others in their class. Class sizes are small to insure individual attention and opportunities to work with the equipment.