News & Notices
USITT to Honor Five with Distinguished Achievement Awards
Five outstanding individuals will be honored as part of the 2012 USITT Annual Conference when they receive Distinguished Achievement Awards. In addition to specific sessions where the honors will be presented and the winners celebrated, USITT has created a special session on Friday, March 30 where they will participate in a conversation, moderated by Kevin Rigdon, which will bring them together to discuss their careers and their visions.
Award winners are Michael Devine, scene design; Howard Brandston, lighting; Dana Nye, makeup; Tom Hall, management; and Judy Adamson, education,
Judy Adamson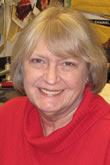 Judy Adamson has been the Costume Director in the Department of Dramatic Art and Head of the Costume Production program at the University of North Carolina since 1993. Before that, she worked at Barbara Matera Ltd., gaining experience at one of the foremost costume houses in New York.
She was Barbara's assistant and workroom manager until 1990 when she began draping for the company. She has draped clothes for such Broadway shows as Crazy for You, Jelly's Last Jam, The Secret Garden, Showboat, Sideshow and Disney's Beauty and the Beast, working with such designers as Irene Sharaff, Miles White, Theoni Aldredge, Florence Klotz, Pat Zipprodt, William Ivey Long, and Bob Mackie. At Matera's she draped for Hairspray, designed by William Ivey Long, did preparatory work on Flower Drum Song, designed by Greg Barnes and Dance of the Vampires, designed by Ann Hould-Ward.
Judy has also worked extensively in dance with American Ballet Theatre, Paul Taylor and Elliot Feld. She was the project director for a supported research grant with Carolina Ballet. She and her students have worked on such productions as Coppelia, Carmen, Great Galloping Gottschalk, and Messiah for the Raleigh-based dance group.
A long-time member and contributor to USITT, Judy compiles and maintains information on costume education programs throughout the country for USITT called Survey of Costume Programs in the United States. She has also written about how to choose a graduate school, and has made many presentations at SETC's annual conference.
In addition to draping for PlayMakers Repertory Company, Judy is working to reorganize and document the vintage collection in the Department of Dramatic Art, including a photograph and description of each garment. The plan is to have information available across disciplines with access through the internet.
Since 2002, Judy has worked at the Utah Shakespeare Festival in Cedar City, draping costumes for Hamlet, Pride and Prejudice, Lend Me a Tenor, Hay Fever, The Glass Menagerie and many others. Her students work at regional theatres, on Broadway and teach at colleges and universities nationwide where they continue to uphold the highest standards of costume draping and construction.
Ms. Adamson will be honored at an Education Commission session at 5:50 p.m. Thursday, March 29 in room 102B of the Long Beach Convention Center where she will give an overview of her career in education and a discussion of her pedagogy.
Howard Brandston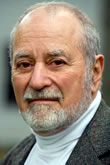 Howard Brandston studied theatrical illumination at Brooklyn College and began his career in lighting in the New York theatre. Prior to founding his own firm in 1966, he was a designer at several manufacturing and lighting design firms including Century Lighting, Inc., where he served as assistant to Stanley McCandless, one of the pioneer figures in lighting design.
He has more than 50 years experience in lighting design, engineering, and electronics, designing illumination for more than 2,500 commercial, institutional, residential, and governmental projects.
Howard received two major awards in 1999. For his contributions to architecture, he was awarded the AIA Institute Honors award. Also, for his outstanding leadership in the lighting industry, he received the Illuminating Engineering Society Medal, its highest honor - he is the just the fourth designer to be so recognized by the IES.
In 1992 he was included in the Interior Design Hall of Fame, the only lighting designer ever to be awarded this honor. He was honored as an initial inductee of the Lighting Design Hall of Fame and also received the International Association of Lighting Designers Lifetime Achievement Award. He is one of six people in the 100 year history of the IES who has received all the highest honors awarded by the Society. Also in 2006 the Richard Kelly Award was presented to Mr. Brandston for his outstanding contributions to education.
He has been a guest lecturer or visiting professor at several colleges and universities.
Howard's articles have been published in over 70 publications, including the Sight Saving Review, Progressive Architecture, Lighting Design and Application, and Architectural Lighting, the latter of which he serves as contributing editor.
His book, Learning to See, A Matter of Light, was released in 2008 and has received numerous positive reviews worldwide.
A special session from the Lighting Design & Technology Commission at 1 p.m. Friday, March 30 will honor Mr. Brandston and focus on looking at the past, looking at the future, and a discussion of the choices, possibilities, and decisions in a lighting designer's life.
Michael Devine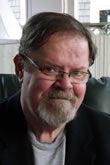 Michael Devine, in a career that spans all areas of the arts and industry, has worked as an art director, production designer, creative consultant, concept designer, exhibit designer, scenic designer, director, and educator.
His professional credits represent themed entertainment, television and videotape production, television commercials, industrial shows, motion pictures, and television film production as well as museum exhibits and professional theatre productions.
Michael served as creative director and design director for the Top of the World attraction at the World Trade Center in New York. He also served in the same capacity for the Skydeck exhibit attraction, The Sights and Soul of Chicago, at the Sears Tower in Chicago.
He was retained as director of exhibit design and development at the Museum of Science and Industry in Chicago, and provided creative direction for the design of the new award-winning 22,000 square foot U505 exhibit, the award winning $3.5 million Great Train Story model railroad, and the Toymaker automated manufacturing exhibit.
Recent clients include The Fort Worth Museum of Science and History, Texas Cattle Raisers Museum, The Graceland Project, America as Seen on TV (History of American television), "Action"! An Adventure in Moviemaking, and the Museum of the American Revolution at Valley Forge for Bob Weis' Design Island, and The Gospel Music Hall of Fame in Nashville Tennessee for Jack Rouse Associates.
Mr. Devine most recently served as creative director for Universal Studios' new 60+ acre theme park in Dubai.
Film, television, and commercial credits include productions which have received Emmy Awards and nominations, Individual Media Awards, Clio Awards and nominations. His numerous honors include 19 Drama-Louge Awards, and he is a member of USA, TEA, and the International Council of Museums.
As production designer, his industrial shows include multimedia presentations and corporate productions for Porsche, Lexus, Compaq Computer Systems, Acura, Honda, the Ford Motor Company, BMW, NSID, Hilton Hotel, Apple USA, PC Magazine, Intel, and the Boeing Corporation.
His nearly 300 scenic designs have been featured in numerous theatre productions on Broadway, at the Mark Taper Forum, the Los Angeles Music Center, Milwaukee Repertory Theatre and South Coast Repertory Theatre, where he is an artistic associate, as well as other notable regional theatres throughout the U.S., Canada, and Europe.
Michael founded the Performing Arts Design and Technology program at California Institute of the Arts in Valencia, California. He has served as master teacher and guest lecturer at colleges and universities throughout the United States. He is Principal of the Devine Design Group, based in Savannah, Georgia.
The Scene Design & Technology Commission will honor Mr. Devine at a special session at 2:45 p.m. on Friday, March 30 in room 104A of the LBCC to celebrate his esteemed career.
Thomas Hall
Thomas Hall, is one of the founding partners of AlbertHall&Associates and oversees the firm's operations from its home offices in California. He also has an active practice as consultant, executive coach, and leadership trainer across all disciplines of the nonprofit sector.
Prior to joining AlbertHall&Associates, Tom served the arts and culture community as a producer, executive director, consultant, and teacher. He has achieved success across multiple disciplines and his efforts to effect sustainable growth in the arts at the national, state, and local levels are well-known.
As managing director of the Tony Award-winning Old Globe Theatre, he oversaw a steady pattern of growth that included significant expansion of the company's programs and facilities and an increase in its impact from a respected regional company to one of the nation's most influential professional theatres.
While with the Old Globe, Tom produced over 265 productions, many of which transferred to leading regional theatres and Broadway. He also produced or co-produced over a dozen plays and musicals on and off Broadway, on national tour, and in London's West End, including the international hit, The Full Monty.
In addition to his professional activities, Tom has served on many public boards and commissions, including three terms as President, and two as Vice President, of the League of Resident Theatres (LORT) and nine years as a member of the California Arts Council, three as its Chair. He is currently a member of the Board of Governors of the San Diego Foundation and a facilitator, trainer, and executive coach for the Fieldstone Foundation's Leadership Network.
Tom has been a panel chair, panelist, and site visitor for the National Endowment for the Arts, the California Arts Council, and the San Diego Commission for Arts and Culture. He has also testified before Congress and state and local governments on numerous occasions concerning arts policy, legislation, and public sector funding.
Tom has lectured on arts administration and labor relations at leading universities and law schools including, Duke University and the Yale School of Drama, and is a founding member of the Fieldstone Leadership Network where he teaches and leads seminars for trustees and non-profit executives regarding current trends and practices in organizational leadership and governance.
Tom is an honors graduate from University of California and is certified by the Institute for Cultural Affairs (ICA-US) in group facilitation and organizational planning.
Mr. Hall will speak about his career at a special session from the Management Commission at 2:45 p.m. Friday, March 30 in room 202A/B. A reception will follow.
Dana Nye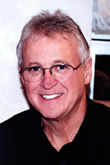 Dana Nye is president of Ben Nye Makeup and worked as a professional makeup artist. He is the youngest son of Ben Nye, Sr., noted as one of Hollywood's most prominent makeup artists.
Dana earned his Bachelors of Arts degree in Business Administration at the University of the Pacific in 1969. After a year of graduate study, he joined his father directing the marketing efforts of the fledgling company, Ben Nye Company
Ben Nye, Sr., who started the business in 1967, designed contemporary colors and products suited for film and theatrical productions.
Dana became president of the Ben Nye Company in 1975. He oversees all phases of operations including production, product development, sales and marketing. He still relies on his father's original, unique formulas as the basis for creating realistic and practical products vital to the entertainment industry.
Dana frequently travels domestically and abroad to introduce new products to dealers and end users. Trips include visits with opera wig masters, studio makeup artists, and instructors. His travels frequently included college lectures to educate both instructors and students on theatrical makeup techniques. Dana produced a popular video series widely used in the educational market. The series was translated in 2008 to DVD and includes updated tips and closed-captioning.
Dana worked professionally as a makeup artist for over 30 years. One of his early jobs was on the original Planet of the Apes. In previous years, his schedule would allow him to serve as makeup department head for one "sitcom" per season. His credits include Happy Days, Webster, Murphy Brown, Dear John, and The Mommies.
He also enjoyed serving as makeup artist for hundreds of television commercials. One of his last jobs was on the popular Paramount television show, Fraser. Due to the growth of the business and an expanding product line, he now devotes his time to the Ben Nye Co.
As president, Dana has continued to expand the Ben Nye product line. He often consults with working makeup artists and instructors to ensure that the needs of these professionals are met. Recent development includes a broad range of beauty, special effects, and character makeup products.
In 2011, Dana introduced the MediaPro line to satisfy the needs of current Hi-def demands and digital media. Additional shades for performers of color were also developed in the Mojave Series.
Under Dana's direction, Ben Nye now offers the widest scope of specialty makeup for the professional market today, and the company has become one of the largest manufacturers of professional cosmetics in the world.
The Costume Design & Technology Commission's special session with Mr. Nye will be held at 7 p.m. Friday, March 30 in room 104B of the LBCC, and will include a reception in his honor.
The work of Ben Nye Sr. is highlighted in a special exhibition at Stage Expo.