News & Notices
Auction, Garage Sale Featured at Stage Expo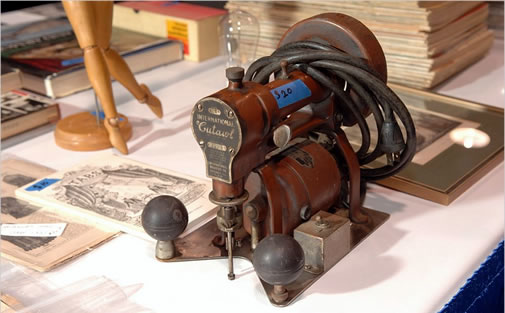 USITT's 52nd Conference & Stage Expo will feature a very special exhibit: the popular Theatre Art Auction to benefit the Edward F. Kook Fund. Every three years for the past 24 years, the Grants & Fellowships Committee has produced this remarkable event. From the Kook Fund, and other USITT resources, the Committee has distributed well over $230,000 allowing Institute members to unwrap and advance ideas that might not otherwise have been explored.
The Art Auction and Garage Sale will take place in a specially designed area adjacent to the USITT Booth on the Expo floor. There will be 30 or more unique theatrical costume and scenic designs as well as other specialty items to bid on. The Silent Auction bidding will open at 11 a.m. Thursday when the Stage Expo opens and the final bids will be taken at 1 p.m. Saturday just prior to the closing of Stage Expo. A bid number may be purchased for a $5 donation to the Kook Fund. This number will allows bidding items in the Silent Auction and purchasing objects at the Garage Sale. The perspicacious and wily will maneuver for the next three days as bids and counter bids trump one another for ownership of treasured artwork.
What will there be to bid on? Artwork from Carrie Robbins, Dunsi Dai, Jo Mielziner, Huaixiang Tan, Betty Poindexter, Jules Fisher / Eddie Kook, Maurice Stricle, Joe Tilford, and many others are included in the Silent Auction. There are several author signed and a few hard-to-find collectable books such as Jean Rosenthal's Magic of Light as part of this year's offerings. For treasures at a reasonable price, there is the Garage Sale where items strange and wonderful can be found including unique items of historic value such as books, hardware, and T-shirts.
All proceeds benefit the Eddie F. Kook fund and allow the Grants & Fellowship program to continue providing Institute members with research dollars.