Commissions
Guild Members to Share Experiences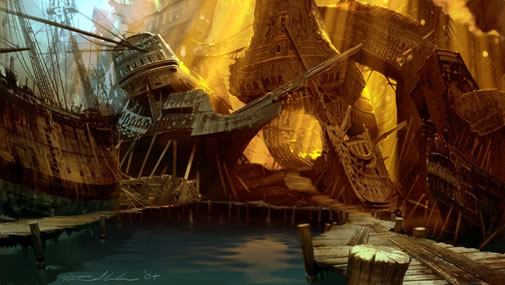 The Scene Design & Technology Commission and the Southern California Regional Section will co-present A Conversation with the Art Directors Guild from 2 to 3:15 p.m. Saturday, March 31. The session will provide an introduction and unique opportunity to speak with members from each of the Guild's four branch crafts. The panelists will offer insight into their careers and professions as production designers, art directors, illustrators, storyboard/pre-visualization artists, matte artists, set designers, model makers, and scenic, title, and graphic artists.

John Shaffner will represent the art directors. He and his partner Joe Stewart are among the most recognized production designers in television with 31 Primetime and Daytime Emmy Award Nominations, six Emmys, 16 Art Directors Guild Nominations, and one award. They are most known in multi-camera comedy designs for Two and a Half Men, Big Bang Theory, Mike and Molly, Friends, George Lopez, Dharma and Greg, and the Drew Carey Show.
Representing the illustrators/matte artists branch is Nathan Schroeder, a concept artist who has created artwork for X Men, Pirates of the Caribbean, Thor, Captain America, The Avengers, and many other films.
Representing set designers/model makers is leading industry Set Designer Scott Baker who innovatively blends his background in traditional fine arts and theatrical design with cutting-edge digital design skills, allowing him to rapidly visualize, conceptualize, and execute technically challenging designs on some of Hollywood's biggest movies. His credits include Thor, Alice in Wonderland, Avatar, Star Trek, and Lemony Snicket: A Series of Unfortunate Events.
A scenic artist for 33 years, John Moffit will represent the scenic, title & graphic artists branch of the ADG. Over the span of his career, he drew and painted scenic backdrops, murals, portraits and fine art work for films and television, as well as designed and created artwork for theme parks, restaurants, theaters, and industry in the U.S., Europe, China and Japan. The last 20 of those years he was engaged by Warner Brothers Studios as its lead scenic artist. In 2007, he retired from Warner Bros. to take his current position as associate executive director at the Art Directors Guild.
Thomas A. Walsh, originating production designer on ABC-TV's hit series Desperate Housewives for which he designed the pilot and 84 episodes, will moderate the session. He is co-chairman of the Art Directors Guild Film Society, is a member of the Art Directors Guild Local 800 and the United Scenic Artists Local 829 in New York, and is currently the designer for the popular USA/Universal cable series, In Plain Sight.