Conference & Stage Expo
Sponsors Flock to Support Conference Events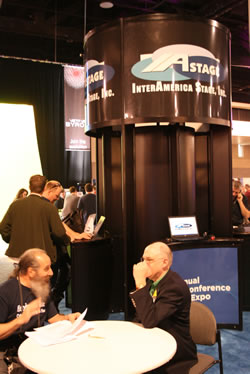 A V Pro, Inc.; Electronic Theatre Controls (ETC); SECOA; and Texas Scenic Company will help start the 2012 Annual Conference & Stage Expo in Long Beach, California, by supporting the Opening Night Celebration. The companies of Elite Training Las Vegas will sponsor Opening Night Celebration for the first time. Opening Night, which begins with the USITT Address by Fellow Jerry Gorrell, will include the presentation of Awards for Young Designers & Technicians in the Performing Arts, The Rising Star Award sponsored by LDI/Live Design, and the induction of new Fellows.
Disney Parks Creative Entertainment again will sponsor the Closing Night Celebration on Saturday, March 31.
Stay connected at one of the many Cyber Lounges located throughout Stage Expo (click here to view a map). The lounges -- kiosks outfitted with computers and internet connections -- allow attendees to stay in touch with employers and family while working on their professional development. Eight lounges are supported courtesy of Theatre Projects Consultants Inc.; H&H Specialties Inc.; InterAmerica Stage Inc.; RC4 Wireless/Soundsculpture Inc.; IATSE Local 1; Live Design/LDI; and City Theatrical, Inc. BMI Supply will be sponsoring a Cyber Lounge for the first time.
USITT appreciates these companies and encourages members to take advantages of the events and opportunities they create.
All sponsorships include a recognition package and will place sponsors' names front and center for the industry professionals who attend the Conference