The Last Word:
"The West Coast Scenic"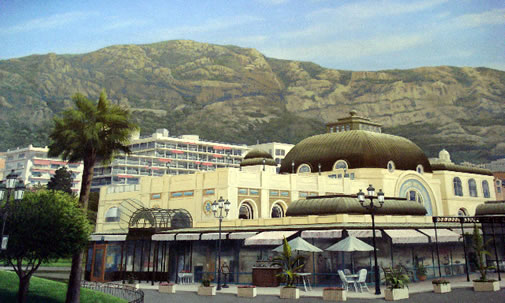 The Scene Design & Technology Commission invites you to join them for a session that examines the work of four top scenic artists working in film, television, theatre, opera, themed entertainment, attractions, education, and beyond. We will discuss training, offer insights from the motion picture and entertainment industry, and discuss what it means to be a scenic artist in the 21st century. Presenting panelists are Pat Degreve, Michael Denering, Mary Heilman, and Tiana Torrilhon.
Chaired by Karen Maness, the session will be held 6 to 7:15 p.m. Wednesday, March 28.
CBS TVC Charge Scenic Artist Pat Degreve has more than 35 years experience with CBS, beginning his career on The Carol Burnett Show and Sonny and Cher. Pat served as the president of Local 816, Scenic, Title, and Graphic Artists for 15 years and is the current chair of the Scenic Artist Council of the Art Director's Guild.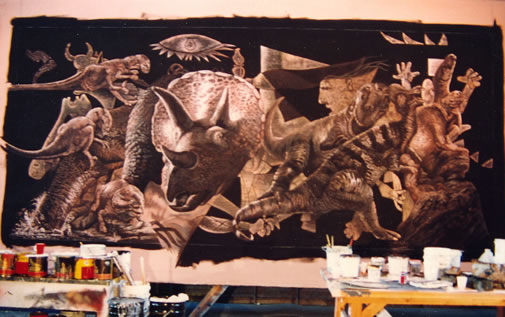 Michael Denering is one of the film industry's leading journeymen scenic artists with over 30 years in the motion picture industry painting murals and backdrops for Oscar winners and nominated films. His resume has well over 100 feature films to date including Ghostbusters, Lost Boys, Dracula, Batman, The Green Mile, Spiderman, Lethal Weapon, What Dreams May Come, Jurassic Park, Planet of the Apes, Iron Man, Pursuit of Happyness, Pirates of the Caribbean, Charlie's Angels, Seven Pounds, Transformers, Lemonysnickit, Diehard, and Star Trek. He is a member of the Art Directors Guild and serves on its Board of Directors.

Mary Heilman is the head of the MFA scene painting specialization in scene design at the California Institute for the Arts. As lead scenic artist and master painter for South Coast Repertory Theater in southern California for 17 years, she painted over 250 productions working with Ming Cho Lee, Ralph Funicello, Karen TenEyck, Robert Brill, Marg Kellogg, Adrienne LaBelle, Tony Straiges, and many others. She is a long time independent artist/contractor for Disney Imagineering and has contributed to projects in Tokyo, France, Florida, and California. She has executed projects for the Old Globe Theater, Mark Taper Forum, the Denver Center, and Arizona Theater Company. She teaches advanced studies in scene painting for Cobalt Studios in New York. In addition to her work on numerous film and television projects, her commercial design clients include Mazda, Suzuki and Toyota for Saatchi and Saatchi, Westin Hotels, and the U.S. Pentagon. She is a Director of USITT.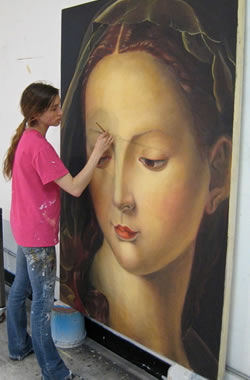 Tiana Torrilhon joins the panel as an emerging scenic artist, offering insight into her experience navigating the current industry. She is a recent graduate of the California Institute of the Arts MFA theatre program where she specialized in scenic art. Since moving to Los Angeles, Tiana interned at Comcast Entertainment Group, now part of NBC Universal, (E!, Style, G4, FearNet) where for nine months she worked in the art department on studio tapings, press junkets, and live events including movie premiers, the Grammys, Emmys, Oscars, SAG Awards, Golden Globes, and E3: Electronic Entertainment Expo. She is currently working as an intern at Walt Disney Imagineering where she works primarily in color design creating both digital and hand-painted scenic artwork for the future Shanghai Disneyland Park as well as various other resort expansions.
From stage to screen, we will celebrate the work of West Coast scenic artists and the power of the painted image. Presented by the USITT Scene Design & Technology Commission