News & Notices
Jason Simms Wins Eighth Annual Rising Star Award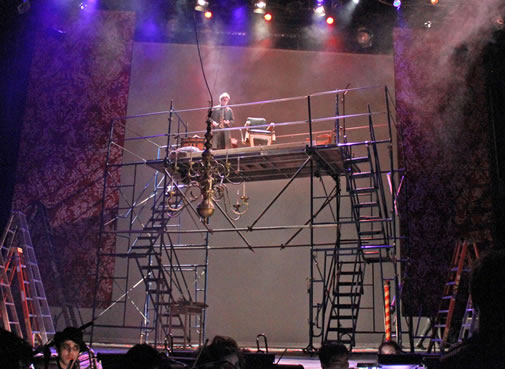 Scenic designer Jason Simms is the recipient of the eighth annual USITT Rising Star Award, sponsored by LDI2012 and Live Design magazine. The Rising Star Award recognizes excellence and artistic achievement in the areas of scenic, lighting, sound, and projection design, or the convergence of these design disciplines. The award is given at the beginning of a career to a young designer in the first four years of professional (non-academic) work, following the completion of his or her highest degree. The 2012 Rising Star Award will be presented on Wednesday evening, March 28 at the USITT Conference & Stage Expo in Long Beach, CA.
Jason is a freelance New York-based scenic designer, born and raised in Carson City, NV. He began working in the theatre at the age of 15, earned his BFA at Cornish College of the Arts and MFA at NYU, Tisch School of the Arts. His credits include: Off-Broadway: Urge for Going, The Public; Play Nice! and Ghost Light, 59E59;

Regional: A Thousand Clowns, Two River Theater Co.; Dutch Masters, Berkshire Theatre Group; Fefu and Her Friends, Ursinus College. Off-Off-Broadway: A Bright New Boise, Partial Comfort Productions; DOT
 and Vendetta Chrome, Clubbed Thumb; American Treasure, 13P; Thirst(y),
The Pronoun I and Babes in Toyland, Little Lord; MilkMilkLemonade, 
Astoria Performing Arts Center & The Management; The Land Whale Murders, Shelby Co.; After, Partial Comfort Prodcutions at the Wild Project;
Upcoming: The Whale, Denver Center Theater Company; Sweeney Todd, Yale University.
"It is with tremendous pleasure that I unflinchingly recommend Jason Simms for your award," says Chad Beckim, co-artistic director of Partial Comfort Productions, in a letter of recommendation. "He is an absolutely brilliant designer, gifted in the art of transformation and among the most talented folks I've ever had the good fortune to cross paths with. From his talents to his work ethic to his sheer character, there is no better option for this award, and I honestly cannot promote him enough. This guy is genius."
David Grindle, USITT executive director, notes, "Jason Simms joins a small, prestigious group of young designers as this year's Rising Star winner. His work indicates to all of us that we will see his mark on scene design for many years to come. The Rising Star Award continues to draw nominees from all areas of design showing remarkable talent and skill. It is an honor to recognize someone of Jason's caliber and bring him to greater attention in the industry."
David Johnson, publisher of Live Design, adds, "We are very pleased to add Jason Simms to our distinguished list of Rising Star winners. It is fitting to honor a scenic designer this year as the Scenic Design Master Classes are among the new professional training options we will produce later in 2012. Jason represents the exciting next generation of designers."
LDI and Live Design have funded USITT's Rising Star Award, with the winner receiving a $1,000 prize and conference registration. For additional information about the Rising Star Award, visit USITT at www.usitt.org or Live Design at www.livedesignonline.com.