News From
Sustaining Members
Doug Fleenor Design: Welcome to Doug Fleenor Design, Inc.
We extend a warm welcome to Doug Fleenor Design as a new Sustaining member of USITT and an exhibitor at Stage Expo. Doug Fleenor Design is a manufacturer of DMX512 distribution and interface equipment for the entertainment industry. A long and growing list of standard products is supplemented by a custom design service which provides solutions to unique problems. Started in 1990 by principal engineer Doug Fleenor, the company has become well known-for DMX controlled coffeepots, blenders, even a chain saw. To see more, visit www.dfd.com.
RC4 Wireless: Moves to 'Silicon Valley of the East'
RC4 Wireless, manufacturer of the acclaimed RC4Magic Wireless DMX and Dimming System, has relocated to Raleigh, North Carolina. Just minutes from Research Triangle Park (RTP), RC4 Wireless has joined one of the most technology-savvy regions in North America, the "Silicon Valley of the East." RTP is home to Cisco, Dupont, Ericsson, IBM, and many other international tech leaders.
The new address is: RC4 Wireless, 13604 Heathwood Court, Raleigh, NC, 27615, USA. Information can also be obtained by calling 866-258-4577, e-mailing moreinfo@theatrewireless.com, or visiting www.theatrewireless.com. Their emergency technical support number has changed to 919-400-3961.
Reed Rigging: Provides Rigging for Talk Show Super Bowl Broadcast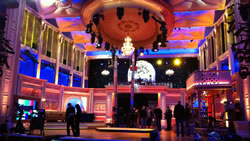 Reed Rigging provided production rigging support for a uniquely designed and constructed set for the Late Night with Jimmy Fallon television show broadcast from Indianapolis's Hilbert Circle Theatre. The Indianapolis-based broadcasts coincided with Super Bowl week for the NFL. Last year's Super Bowl set a U.S. audience record of 111 million viewers, and this year's contest is expected to exceed that number.
The Hilbert Circle Theatre, home to the Indianapolis Symphony Orchestra, was transformed from its 1916 historical splendor to a fully-functioning 21st century television broadcast studio incorporating miles of cable, cameras, video walls, lighting and state of the art audio systems into its ornate and elegant interior.
Serapid: Produces Stage System for the Bolshoi Theatre
Serapid, producers of innovative technology for stage scenery movement, recently completed work on the renovation of the prestigious Bolshoi Theatre in Moscow, Russia.
Serapid caught the world's attention with its stage equipment for the 2008 Beijing Olympics, and has produced equipment for scenery movement for hundreds of theater and concert halls across the globe, including the Copenhagen Opera House, the Saint-Nazaire halls of the Middle East and 50 cruise ships. The latest project was the magnificent Bolshoi Theater in Moscow which recently reopened its doors after six years of work and an investment of 21 billion rubles (nearly $700 million).
TOMCAT: Garl Named President, General Manager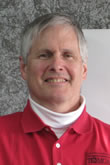 TOMCAT announced that Mike Garl has joined the team as president and general manager. Mr. Garl, who joins TOMCAT from James Thomas Engineering where he was previously the president and managing partner, will be responsible for all the day-to-day activities at TOMCAT.
He studied at the Pasadena Playhouse and Carnegie-Mellon University, where he earned a degree from the School of Drama in 1972. He served as a technical director, lighting designer, and sound designer during college. In addition, he spent five years as the lighting designer and technical director for the summer seasons of Opera Barga in Barga (Lucca) Italy.
After graduation, he worked at the University of Rochester and joined the faculty in the theatre department at the University of Tennessee-Knoxville. Before helping establish James Thomas Engineering in the United States, he spent five years with Holiday on Ice as the sound engineer, master electrician, and lighting designer/director.
Mr. Garl has been a member of the PLASA (formerly ESTA) Technical Standards Council since its inception in 1994, serving as its chairman since 2005. He is the past chairman of the Rigging Working Group and is an active member of the E1.2 and E1.21 Task Groups. As a result of his dedication to the organization, he received the ESTA Eva Swan Award in 2001.
Stage Institute of Las Vegas: April 1 Deadline for Summer Scholarship Applications
The Stage Institute of Las Vegas (SILV) is accepting nominations for tuition scholarships for this summer. Submit a name and a few words on why this person would be a good candidate for the program and a scholarship. Filing deadline is April 1. Applicants can nominate themselves.
Those committed to a career in entertainment technology and who would benefit from the knowledge, the networking, and the experience of high level, intensive, training can check the curriculum at stagecraftinstitute.com/classes.
iWeiss: McWilliams to Direct Marketing and Sales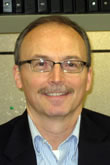 Monty McWilliams was named director of marketing and sales at iWeiss Theatrical Solutions, a leading provider of drapery, rigging and installation. For the past 11 years he was the marketing director at Apollo Design Technology, Inc.
Mr. McWilliams holds both a master's degree in business administration and a bachelor of science degree in marketing from Ball State University in Muncie, Indiana. He can be reached at montym@iweiss.com. Visit the company's website at www.iweiss.com.
Meyer Sound: Expands Low-Voltage Product Line Loudspeakers
Meyer Sound's line of self-powered, low-voltage audio solutions has grown with the addition of three new 48-volt, DC-powered loudspeakers that offer the same performance as their AC-powered counterparts. They are the UMP-1XP ultra-compact wide-coverage loudspeaker, the UPJunio-XP ultra-compact VariO, and the UMS-1XP ultra-compact subwoofer.
These systems open the way to a broadened range of low-voltage installations that demand exceptional audio clarity, higher SPL, and powerful bass impact. They will begin shipping in April. More information is available at 510-486-1166; fax 510-486-8356; e-mail winnie@meyersound.com or www.meyersound.com.