News From
Contributing Members
Daktronics, Inc.: Receives ISO Certification
Daktronics Inc.'s factory which manufactures its Vortek automated rigging products is now certified to the ISO 9001:2008 Quality Management Systems standard. The company has steadily invested in improving its rigging factory since acquiring the business in 2006. Since that time, Daktronics has relocated the operation to a newer and larger facility, incorporated a lean management system, implemented an Enterprise Resource Planning system, and developed and installed in-plant, full-load hoist testing capability.
Rose Brand: Named Project Manager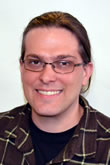 Jason Roscher has joined Rose Brand as a project manager in the technical services department in Secaucus, New Jersey. He will serve as a representative of Rose Brand in the field, managing installation of track and rigging systems in theatrical and commercial environments.
He has a background in technical theatre. Prior to joining Rose Brand, he worked at The Spoleto Festival, Lincoln Center Out of Doors Festival, and most recently spent a number of years working and in Las Vegas Cirque du Soleil's Believe, Elvis, and Love productions, as well as Lion King Las Vegas.
Rosco: Promoted to Senior Representative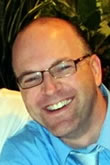 Damon Hatten, account representative based in Cincinnati and responsible for the Mid-West U.S. at Rosco Laboratories, has been promoted to the newly-created post of senior account representative. He started in sales with Rosco in 2005 and has a track record of continuous growth with outstanding leadership skills. He has a BA in theatre from Wilmington College and has professionally acted, technical directed, and master carpentered multiple productions. In his new position, he will play a more vigorous role in mentoring other Rosco reps in developing professional skills, rituals and practices. He will also participate in the development of Rosco's U.S. strategic plans and scale best account representative practices into the company's national strategy.
ETC: Expand Lighting Control, Dimming Product Lines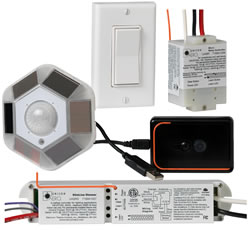 Around the globe, thousands of venues rely on ETC's Unison architectural lighting control family as well as dimming controls for entertainment lighting.
The company has expanded the Unison family to bring intelligent control to even more facilities. The Unison Aero line offers cost-effective, energy-saving control for existing or new lighting systems in hotels, office buildings, dormitories, conference rooms, classrooms, nursing homes, retail outlets, restaurants, and any retrofit or new-build project.
Unison Aero's SmartClick control stations are completely wireless, so they can be placed anywhere a light switch is needed. The stations don't contain a battery, and are Powered by You, a patented system that harvests the kinetic energy created when turning them on and off.
Unison Aero systems can be installed quickly because they don't require any infrastructure changes or wiring.
For more information about the new Aero line of architectural control products, visit ETC's website at www.etcconnect.com.
With the introduction of its ETC's Sensor brand in behind the scenes of entertainment-lighting venues worldwide, Sensor3 Power Control does dimming and more.
The Sensor3 Power Control System tightly integrates with ETC lighting consoles. Not only do technicians have instant access to system and circuit status, they can shift between dimmable and non-dim operation, update curves, change minimum or maximum output voltages, set preheats, activate backup looks, and record loads. And Net3™ means any ACN-based software or remote console can be seamlessly integrated into the Sensor3 system.
For more on ETC Sensor3 Power Control, go to www.etcconnect.com/products.dimming.aspx
J.R. Clancy, Inc. & Barbizon Lighting: New Theatre Features Member Rigging
With the opening of the Parker Arts, Culture and Events Center (PACE) in Parker, Colo. late in 2011, audiences looked forward to an exciting season of more than 60 performances of 28 different shows. From A Christmas Story and Annie, to the premier of an original musical, to a custom light show created by Luma, to the Irish dance troupe Direct from Ireland-Celtic Nights to an interpreted production of Stuart Little for hearing and deaf audiences, the facility's 536-seat theatre has the ability to host such diverse productions because of the easy-to-use automated rigging system provided by J. R. Clancy, Inc., and installed by Barbizon Lighting of the Rockies.
More information about J. R. Clancy is available at 800-836-1885, or www.jrclancy.com.