News & Notices
eSET Awards 10 Certificates at USITT 2016
The Essential Skills for the Entertainment Technician (eSET) program completed its 2016 launch at the 56th Annual USITT Conference & Stage Expo in Salt Lake City.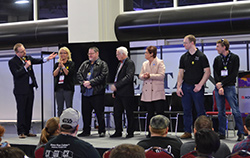 Applicants who had previously passed the basic rigging or lighting and electrics online exams were given the opportunity to take the practical test. Of those testing, 10 successfully passed and were awarded certificates on the Innovation Stage at Stage Expo on March 20.
Certificates were presented to:
Rigging – Jennifer Jones and Mathew Grenier.
Lighting and Electrics: Mathew Grenier, Evan Kicman, Ann Cyr, Kevin Orlof, Taylor Ness, Casey Price, Jake Otto, and Samuel Mollner.
eSET is a testing program for entry level employees and is not to be confused with the Entertainment Technician Certification Program. An eSET certificate confirms for employers that an individual has satisfactorily demonstrated the basic skills for an entry level technician. eSET can be a gateway on the path toward ETCP certification.
The next practical eSET exams will be offered in Rigging on Saturday, May 21 at the Cirque du Soleil Training Center in Las Vegas. Participants must pass the online subject exam by May 16 to be eligible for the practicals.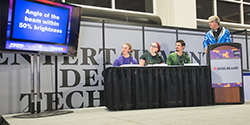 During the Conference, attendees had fun with the eSET Quiz Bowl sponsored by Rose Brand with Jeff Flowers as the emcee. A panel of three contestants each day posed questions to answers on a Jeopardy!-style display board. The topics were based on Rigging, Costume, Electrics, and Venue Basics. The material used in the quiz was based on the lexicon used for current eSET exams – and available on the eSET app.
On Saturday, the daily winners for each category tested their knowledge in the finals. The overall winners were Justin Burns, James Madison University, for Electrics; Chante Hamann, Boise State University, for Costuming; and Jordan Lippert, Florida State University, for Rigging.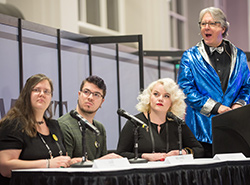 Registration for online eSET testing is available at www.usitt.org/eset. Applicants must pass the Basic Terms and Safety exam before taking subject exams in rigging, lighting & electrics, and costuming. More disciplines will be added in the future.
Any questions, contact Christine Troscher at christine@usitt.org.