News & Notices
Gateway Class of 2016 Met, Networked, & Bonded in SLC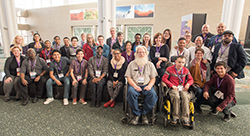 USITT's Gateway Program celebrated its third year at USITT 2016 in Salt Lake City, bringing 12 student/early career mentees from underrepresented groups in theatre production to experience the Annual Conference & Stage Expo and pairing them with 12 mentors from similar fields and backgrounds.
The mentees and mentors had their own receptions and meetings to bond as a group, and also attended Conference sessions, explored Stage Expo, and participated in roundtable discussions on diversity and inclusion.
"For those of us belonging to underrepresented communities, it can be easy to feel like we're all alone and isolated," Gateway mentee Randy Wong-Westbrooke told his school, Ithaca College. "To be able to talk to a professional who's gone through the ropes, at least a little bit, is really inspiring and empowering."
The Gateway Program provides mentorships, USITT Conference registration, and a one-year membership to USITT to emerging artists underrepresented in theatre production based on race/ethnicity, gender and sexual orientation, and disability, among other factors.
This year's Gateway mentees and their respective mentors were: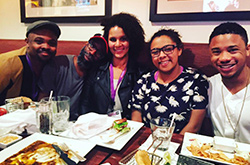 Frankie Charles, Technical Direction, DePaul University – Andi Lyons, Lighting Design & TD, The University at Albany- SUNY
Randy Wong-Westbrook, Scene Design, Ithaca College – Britton Mauk, Scene Designer, Pittsburgh, PA.
Luis Garcia, Lighting Design, Stetson University – Jim Streeter, Production Manager, Princeton University
Anthony Boyd, Costume Design, Western Illinois University – Topher Morris, TD, Salem State University
Shelby Choo, Technical Direction, Cornish College of the Arts – Mary Black, Technical Direction, Millikin University
Zack Fiudo, Sound Design, Variety Children's Theatre – Michael Maag, Electrics, Oregon Shakespeare Festival
Alex Cooper, Stage Management, University of Louisville – Samuel-Moses Jones, SM, Jersey City, NJ
Sharon Suh, Stage Management, Calvin College – Narda Alcorn, SM, DePaul University/Theatre School
Akeem Celestine, Costume Design, SUNY Oneonta – Rafael Jaen, Costume Designer, UMass-Boston
Stephanie Thompson, Sound Design, Houston – Sun Hee Kil, Sound Design, SUNY New Paltz
Joseph "Tre" Haskins, Stage Management, Madison, WI – David Stewart, PM, Guthrie Theater
The peer mentors were former Gateway mentees Martin Alcocer and Stage Manager Kendra Arado.
Two of the students received travel expenses and hotel housing provided by the Tayneshia Jefferson scholarship fund in memory of the late USITT Board Member and mentor. Four others received support from their schools for travel and housing at USITT 2016.
The mentees and mentors alike said they were grateful and humbled to experience the Gateway Program. Scene Designer and Mentor Britton Mauk called it "a life changing experience that I will cherish for years and years. Stage manager and mentor Samuel-Moses Jones said, "I know that Tayneshia Jefferson is smiling down on us all."
Nominations for the Gateway Class of 2017 mentees will open this fall. For more information or to support the Gateway Program, please visit www.usitt.org/gateway.