Spotlight on Giving
Ribbons for Rigging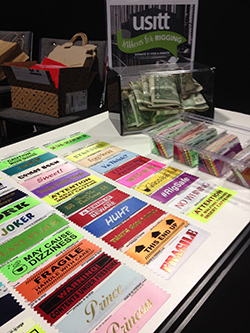 USITT's Rigging Safety Initiative is the only program providing free stage rigging inspections and safety training to secondary schools in the U.S. The program aided dozens of schools with rigging inspections and safety training thanks to sponsorship from JR Clancy, ETC, H&H Specialties, and Shepard Exposition Services.
The RSI also benefits from donations by individuals and sales of Ribbons for Rigging, humorous phrases to personalize Conference badges for $1 per ribbon. At USITT 2016 in Salt Lake, Ribbons for Rigging raised $323 for the RSI.
To donate to the program, visit www.usitt.org/rsi.
To suggest future Ribbons for Rigging, email Monica@usitt.org.
Donors from March 15 to April 14, 2016:
Kook Fund
Sandy Bonds
Dennis Dorn
Andi Lyons
Sylvia Hillyard Pannell
Loren Schreiber
Charles Williams
New Century Fund
Andi Lyons
Charles Williams
New Century Fund - Diversity
Kasey Allee-Foreman
Rafael Jaen
Michael Katz
Andi Lyons
Michael Mehler
Linda Pisano In Memory of Tayneshia Jefferson
Samuel H. Scripps International Fund
Sandy Bonds
Kevin Rigdon
Loren Schreiber
USITT Fund
Rafael Jaen
Andi Lyons
Travis McDonnell
Mark Shanda
General Operations
William Browning
Daniel Culhane
Dennis Dorn
Eric Fielding
Emily Gill
David Grindle
Mickey Henry
Michael Katz
Carl Lefko
Andi Lyons
Karen Maness
Martha Marking
Leslie Marqua
Sylvia Hillyard Pannell
Carolyn Satter
Loren Schreiber
Vickie Scott
MJ Sedlock
Ms. Sherry Wagner-Henry
Kimb Williamson
Fellows Fund
Sandy Bonds
Travis DeCastro
Eric Fielding
Thomas Hird