News & Notices
Announcements
USITT: Kevin Rigdon Named VP-International Activities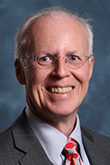 USITT President Mark Shanda recommended Board Member Kevin Rigdon to the position of VP-International Activities and the board appointed Rigdon to the role recently vacated by Markéta Fantová, who has moved to Prague, Czech Republic, to serve as Artistic Director for the Prague Quadrennial of Performance Design & Space.
Kevin will serve out Marketá's term as VP-International Activities. The board is expected to fill Kevin's seat at its May 20 meeting.
NATEAC: Win Free Pass to NYC Conference
USITT has two free passes to the North American Theatre Engineering and Architecture Conference (NATEAC) on July 17-18 in New York City. This event brings together leaders in Architectural, Engineering, Manufacturing, and Consulting fields to discuss issues in designing and building performance venues in North America.
To enter to win a free pass to NATEAC, email USITT with the subject line "Free pass to NATEAC" and send your full name, organization/school, email address, phone number, membership level, and include 20 words or less on how you benefit from your USITT membership!
ETC, Rosco: Continue Support of Behind the Scenes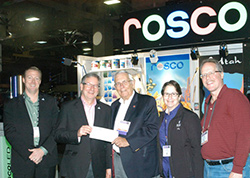 Contributing Members ETC and Rosco Laboratories presented checks to Behind the Scenes at USITT 2016 as a result of product sales.
ETC CEO Fred Foster presented a check for $19,260 from sales of iRFR and aRFR apps bringing the total donation from these app sales to just over a quarter million dollars.
Rosco CEO Mark Engel presented the eighth annual check, for $3,200, from sales of Roscolux 359 Medium Violet. The product has raised a total of $21,548.
ETC: June 1 Deadline for LDI Student Sponsorship
Applications for Contributing Member ETC's LDI Student Sponsorship are due by June 1. The sponsorship gives undergraduate seniors and graduate students an all-expenses-paid trip to the LDI tradeshow to be held Oct. 21 to 23 in Las Vegas. Apply here.
Oklahoma State University: McKnights Donate $25 Million for Center
Supporting Member Oklahoma State University received a $25 million gift from alumni Ross and Billie McKnight to establish an endowment to support programming for the planned performing arts center.
The new McKnight Center for the Performing Arts is expected to open in 2019.
IATSE: Offers Condolences on Howard's Death
Contributing Member IATSE released a statement of condolence on the March 23 death of Kenneth Howard, a Tony- and Emmy-Award winning actor and president of the performers union SAG-AFTRA: "We are deeply saddened at the news of SAG-AFTRA President Ken Howard's passing … Ken Howard was a strong leader, and this is an incredible loss to his family, SAG-AFTRA members and the industry as a whole."
ESTA: Three Additional Standards in Review
ESTA has added three additional documents to five already in public review. Comments are due no later than May 23.
The additional documents are:
BSR E1.28 – 2011 (R201x), Guidance on planning followspot positions in places of public assembly (a reaffirmation)
BSR E1.42 - 201x, Entertainment Technology—Design, Installation, and Use of Orchestra Pit Lifts (a new project)
BSR E1.56 – 201x, Entertainment Technology—Rigging Support Points (a new project)
For more information, contact standards@esta.org.
OSHA: Stand-Down for Fall Protection May 2-6
USITT safety partner OSHA holds its third annual National Safety Stand-Down from May 2-6, a week to remind and educate workers about fall protection. OSHA is asking employers across the nation to pause during the workday to engage workers in discussions, demonstrations, and training on how to recognize hazards and prevent falls.
Please visit OSHA's Stand-Down webpage to learn how to participate as an employer or find an event in your area. OSHA Training Institute Education Centers around the country will offer free fall protection training courses; click here for info.
Anyone with questions on how to participate may contact USITT Safety & Health Commissioner David Glowacki, dglowack@kent.edu or (330) 308-6403.
Theatralia: Call for Papers on Czech Scenography for Shakespeare
The journal Theatralia published by Masaryk University in Brno, Czech Republic, has put out a call for papers to be presented at an international symposium on Czech and Slovak Scenography for Shakespeare.
The symposia will include a series of conferences starting in November at the University of Hull, UK, and ending at The Ohio State University in 2017. The deadline to submit a proposal for a paper is May 31, 2016. Papers must be submitted by Dec. 31, 2017. More details here.