News & Notices
Member Spotlight: William Bloodgood
William Bloodgood, scenic designer, former resident scenic designer at Oregon Shakespeare Festival, now professor of scene design in the Department of Theatre & Dance at the University of Texas at Austin, and a freelance designer.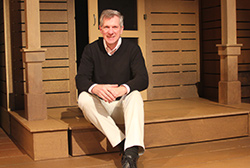 USITT: You've had a great career in scene design. What was your introduction to theatre?
William: I had a really good high school theatre program in suburban Philadelphia and I was taken to the theatre a lot by my parents. I saw The Sound of Music with Mary Martin in 1960 (the original Broadway production). I was born in New York and moved to the Philadelphia area at age 4. I attended the Episcopal Academy for 11 years and got interested in acting there. Then I went to Franklin & Marshall College, and that's where I really bloomed as a theatre artist.
How did you choose scene design?
My college was a small school with only 2,000 students, and the theatre department had 35 majors and four talented and smart professors. I wanted to be an actor because it's what I had done in high school, but in my senior year I was given a set to design – for The Birthday Party by Pinter. And it turned out really well and was the hit of the season.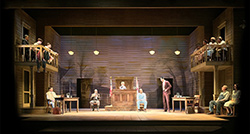 I told one of my teachers, Hugh Evans, that I didn't quite know what to do with this sudden interest in scene design. He said, 'You're a good actor, but you'll never be a great actor. Go study scene design.' It was the best advice I ever had in my life.
I went to grad school at Penn State, where I had a brilliant teacher/designer named Anne Gibson. I got my MFA in Theatre Arts and immediately got a job as an assistant designer at the Oregon Shakespeare Festival. And I stayed there 32 years and designed about 150 shows.
It seems like USITT people often mention their mentors' names.
I mention my teachers' names because now I'm teaching at UT-Austin. I've been teaching there seven years and I'm grateful for the opportunity to give something back. I actually went into teaching while I was still at OSF. I have been teaching 12 summers in a Master of Theatre Studies design program for high school teachers at Southern Oregon University. It's a two-week program over three summers – and it's a really good program because it's conceived for those teachers who are the ones who inspire so many of us to go into the theatre. So often this is where careers start, in high school.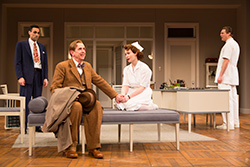 I have found that teaching is a somewhat messy process and it's hard to know if you're making progress, but every once in a while you can sit back and say, 'Wow, they really did learn something!'
Can you describe your style as a designer?
No, I really can't say that I have a style. People tell me they recognize a style in my work, but working for so many years at OSF, I was required to design a variety of plays that demanded a facility with all styles of scenery. Especially with Shakespeare, you might stage the same play several times and redesign it each time, but with 10 or 12 years having passed between productions. Each time, you're working with a different group of collaborators, and if 12 years of history have passed, you inevitably have a different take on the show. So the design is going to change regardless.
You designed the set for a recent Syracuse Stage production of To Kill a Mockingbird. Is it hard to design remotely from Texas?
When you're a resident designer in a company or a frequent guest designer for a company, you develop personal working relationships with the technicians and artisans, and that's really the key to satisfying design work. When you're working with a scenic artist or carpenter for over 20 years, you develop a rapport and an understanding that's difficult to create overnight; it takes time and trust – and now we communicate a lot by email. I have done 10 shows with Syracuse Stage, so I know them and they know me, and that rapport makes the process more satisfying. I've also worked with (director) Tim Bond on many productions, so that makes it easier.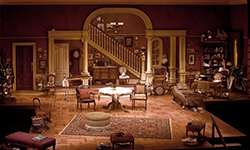 Why did you join USITT?
Because it's the thing to do! You have to be part of USITT if you want to keep up with the technology and the people in the business. And the Conference is a great place to catch up. I couldn't attend this year, but I will try to come next year.
What advice would you give aspiring designers?
I tell my students that they can use what they learn of the process of theatre as the foundation for many related activities, so don't be afraid to use their design training for something beyond the stage. As fascinated as you may be by traditional theatre, you may need to go into TV, film, theme parks, even restaurant design – any place where there's an interaction between a human being and a space and the story implied by the human being in that space.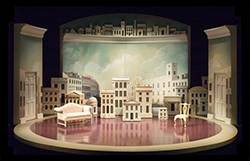 I hope that students are excited by that – that what they learn in theatre can be so easily adapted to other kinds of storytelling. There are theatre students now who are designing characters and scenes and costumes for video games.
You happened to be in tech for Mockingbird when Harper Lee died. Can you talk about that show?
Well, that was a coincidence that suddenly gave us a different context in staging this production, but the design process took place months before. Designing the show is a challenge. The story is told with a series of small scenes in a script that doesn't make staging a simple task. The task is to convey the reality of each scene without drowning the scenes in Realism – keep it simple, keep it moving. In staging it, you don't want to put the movie on stage because you can't. You do what theatre does best, putting a minimum onstage and letting people imagine the rest.