News From
Around the Institute
USITT 2016 got a warm welcome from the Salt Lake City area media, with advance coverage leading up to the show.
From Salt Lake magazine: "Costumes, lights, fog, flight – sound like a sci-fi movie set to you? Not quite, it's the United States Institute for Theatre Technology's 2016 Conference & Stage Expo." Read it here.
---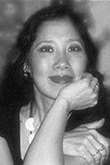 Susan Tsu, professor of costume design at Carnegie Mellon University, will receive the TDF/Irene Sharaff Lifetime Achievement Award in Costume Design on May 20. Tsu, an award winning costume designer, served as artistic director for the USITT-USA Exhibit to the 2011 Prague Quadrennial of Performance Design and Space. She has also been a USITT presenter and mentor to many USITT designers. Congratulations, Susan!
---
Costume Designer Joe Kucharski, Vice-Commissioner-Communications for USITT's Costume Design & Technology Commission and editor of the Tyranny of Style blog, snagged an interview with Audrey Fisher, costume designer for the Amazon Original series The Man in the High Castle.
Fisher spoke about weaving together three different alternative worlds – inhabited by victorious Nazis, Japanese agents, and oppressed Americans in a United States that lost World War II. Read the interview here.
---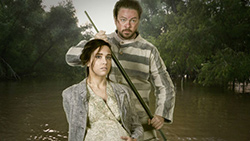 Costume Designer Alina Bokovikova received great reviews for her costumes for the North Coast Repertory Theatre production of Way Downriver, a reimagining of Faulkner's Old Man by Edward Morgan.
"The grit and earthiness of the setting feel almost tactile, thanks in large part to Alina Bokovikova's weathered, distressed costumes," James Hebert wrote in The San Diego Tribute. Read the review here.
---
USITT 2016 Keynote Artist Tupac Martir was featured in a conversation with Wallpaper Magazine Editor Tony Chambers at the famed Victoria & Albert Museum of arts and design in London on Feb. 5.
He told several engaging stories, including one about his minimalist lighting design for a London Fashion Week show at the Royal Opera House.
"A magazine kept on asking for our kit list, and I kept refusing on sending it. And (my assistant) Chloe was going, 'Send it!' And I'm saying, 'I can't!' She said, 'Why?' 'Because if I tell them how many lights I have, they're not going to come. I only have eight lamps.' She said, 'Oh, that's not very good,' and I'm like, 'No, no, let them come and when they look up they'll say, 'Oh, there's only eight lamps.' But when they see what those eight lamps can do, that's when it becomes amazing."
USITT Executive Director David Grindle was recently featured in CNY Conversations, a series of interviews on leadership by Stan Linhorst for Syracuse.com.
Here's one quote: "Leadership is about serving others. If it's only about you, it's a very insular and private world. There are so many really fabulous people in the world. Why not make it about them?" Read more here.
Members: Have News to Share?
Please submit your article, 200 words or less, to janet@usitt.org.