Commissions
June 15 Deadline for Costume Symposium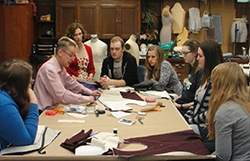 Registration ends June 15 for this summer's Costume Symposium, The Tricky Bits of Tailoring with Graham Cottenden. It will be held July 27 to 30 at the Penn State School of Theatre in State College, Pennsylvania.
Laura Robinson, senior lecturer and tailor at the school, will host the event.
Register at www.usitt.org/costume16 for the four-day symposium.
Cottenden was a senior lecturer in costume for over 20 years. After retiring from the Arts University Bournemouth in the United Kingdom, he was head of wardrobe and artist in residence at the Hong Kong Academy of Performing Arts for a year. A master tailor, he specializes in period costume with a particular interest in male period tailoring and costume history.
An accomplished theatrical tailor, Robinson teaches undergraduate and graduate students from a well of expertise gathered throughout a 20-year freelance career at major regional theatres across the United States. She is assisting Cottenden this summer.
Over four days, 40 participants will work on the problem bits of tailoring: welt and jetted pocket; canvases and pad stitching the lapel; making up and inserting sleeves; and the upper collar. All materials are provided except for a basic sewing kit each participant must bring. Event lunches as well as a closing cocktail reception are also provided.
Questions on registration should be directed to Christine Troscher at Christine@usitt.org. Contact Robinson at lkr13@psu.edu for information about the symposium.