News Releases from
Our Industry Members
ETC: Launches Online Training Portal
Contributing Member ETC recently launched LearningStage, an online platform that organizes video training material into low-cost, guided courses.
LearningStage is in the new Online Training section of the ETC website. Introductory courses for the Eos and Cobalt families, and a level two course for Eos are also available.
Meyer Sound: LEOPARD Leads Pack at Savannah Music Fest
This year marked the debut of Contributing Member Meyer Sound's LEOPARD linear sound reinforcement system at Georgia's Savannah Music Festival, providing sound at the Lucas Theatre for the Arts.
PRG: Helps Illuminate Light City Baltimore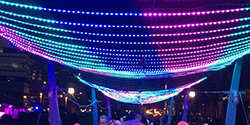 Contributing Member PRG provided lighting production support for Light City Baltimore. known as the first-of-its-kind, large-scale international festival of lights in the United States. Attendees experienced art, live music, and innovation through varying creative scenes and artist installations.
Vincent Lighting: Brightens Case Western Performing Arts Center
Contributing Member Vincent Lighting Systems recently supplied the restored Silver Hall at Temple Tifereth Israel (now Case Western Reserve University's Milton and Tamar Maltz Performing Arts Center) with an all-LED performance and architectural lighting system, and lit the inaugural concert, Violins of Hope: Strings of the Holocaust, by the Cleveland Orchestra.
CHAUVET: CHAUVET Professional Sponsors Student Lighting Showcase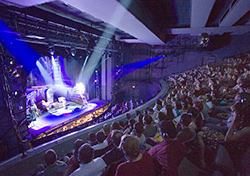 Sustaining Member CHAUVET Professional sponsored its third annual Student Lighting Showcase on Saturday April 16 at the Montalbán Theatre in Hollywood, CA.
Started in 2014, the CHAUVET Professional Student Lighting Showcase has had teams of two to three students from college theater programs in the LA area work under the guidance of educators to create lighting designs for different pieces of music, with critiques provided by professional designers.
Vectorworks, Inc.: Supports Non-Profit Philadelphia Design Center
Sustaining Member Vectorworks, Inc. was among the sponsors that helped launch the new Philadelphia Design Center on March 31. as well as a equipped withVectorworks Designer with Renderworks software, a design solution that allows users to draft, model and present in a single, intuitive interface.