Commissions
New Lighting Compendium Out in Bookstore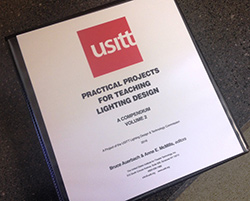 The second volume of Practical Projects for Teaching Lighting Design: A Compendium is now available at the USITT online bookstore.
Volume two adds new, updated methods to the collection compiled in the first volume, which was published in 1990 and revised in 1999.
The Lighting Design & Technology Commission started looking for new projects from lighting educators and designers in 2010. Soon after, the work to select, organize, edit, and polish projects submitted began. The result? Thirty-seven new projects for the second volume.
The new collection includes projects for teaching research, observation, and communication skills; visualization; drafting and technical techniques; color; cueing; and light lab. Its appendices contain information ways to create teaching tools for lighting design.
The one constant in lighting pedagogy is that it is always subject to change. The original concept for this compendium now spans an entire generation of lighting technicians and artists. Its genesis dates back to a period when auto-transformer dimmers were still in use. Students who were instructed from the first editions have gone on to become successful faculty and designers, and many have used the compendium in their own classrooms along the way.
The future for designers, technicians, and educators lies in the ongoing commitment to innovation in teaching lighting design and theatre arts. Ideas for future editions can be sent to the Lighting Design & Technology Commission.
The newly released Scene Design Compendium Volume II is also available at www.usitt.org/store.