News From
Regional Sections
Northern Boundary: Announces New Directors
The Northern Boundary Regional Section recently announced its 2016-19 Board of Directors elected at its Section meeting March 17.
Members thanked Ricky Greenwell, Mark Harvey, Kit Mayer, and Todd Reemtsma, outgoing board members, for their service to Northern Boundary.
The new 2016-2019 NBS directors are Corey Shelsta, Chair; Peter Lerohl, Senior Vice-Chair Programming; Brian Bjorklund, Vice-Chair Publications; Tiffany Fier, Secretary; Jean Montgomery, Treasurer; Alicia Wold, Member at Large-Metro; Scott Boyle, Member at Large-Northeast; Jordan Green, Member at Large-Northwest; Matthew Gilbertson, Member at Large-Southeast; Caitlin Quinn, Member at Large-Southwest; and Lisa Lantz, Member at Large-South.
Look for more information on the new board in the May newsletter.
Ohio Valley: Students Experience National Conference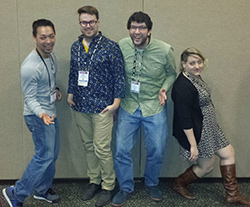 The Ohio Valley Regional Section helped several students attend USITT 2016 in Salt Lake City.
Jose Nunez and Joshua Quinlan were awarded scholarships, while runners-up Jennifer Giangola and Ryan Wantland, were awarded internships sponsored by Future Light.
Nunez said, "I was continually struck at the sense of camaraderie that you could see and feel throughout. You could sense that everyone … shared the bond of having passion for their craft."
Wantland said, "I am reminded why a membership is an investment in my career. There are so many components of each Conference that contain value, but perhaps my favorite is the endless schedule of informative and educational sessions that are offered. "
Midwest: Plans Workshop May 21
The Midwest Regional Section will hold a workshop Saturday, May 21 at Grand Stage/Chicago Spotlight, 3418 N. Knox Ave., Chicago.
"Maintaining Your Lighting System and Fixtures" will be held 9 to 10:15 a.m. and cover things to do to prolong the life of equipment.
Jenny Knott, Rosco paint product manager and USA 829 scenic artist, will lead a session on flame retardancy including how to increase emergency exit times and the limits of flame retardants. She will also discuss how to put together a flame book for a production and demonstrate how to conduct an NFPA 705 field test.
Register with Hope Kass at 312-332-5611 or HKass@grandstage.com.
Midwest also is planning a Theatre Tour of Door County, WI, July 8-10. The tour would visit three summer theatres and possibly attend performances at Peninsula Players Theatre, Northern Sky Theater, and Door Shakespeare. If interested, please email Steve Jacobs in early May at stevejacobs.mrsusitt@gmail.com.