Transitions
Walt Disney: Kucharski Lands Imagineer Job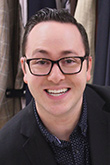 Costume designer Joe Kucharski, Vice-Commissioner of Communications for USITT's Costume Commission, has accepted a position as senior costume designer for Walt Disney Imagineering in Glendale, CA.
He is best known for his Tyranny of Style website and social media posts on costume design, fashion, and the language of clothing.
GLP: Hajdukovic Returns as Sales Manager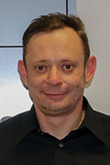 Dejan Hajdukovic, who was part of Sustaining Member GLP's sales team from 2008-12, returned as sales manager based at the company's headquarters in Karlsbad, Germany.