News & Notices
YD&T Awards Boost Excitement for Young Talent
At USITT 2016, costumer Judy Adamson presented an award she created, the Barbara Matera Award in Costume-Making, to Sharon Limpert, a grad student at Carnegie Mellon University.
Adamson got applause when she introduced Limpert as "an artist who realizes the vision of the designer" and added, "As I like to say, 'The actor doesn't wear the sketch.'"
Limpert got more applause – and laughs -- when she pulled her notes from her bodice and said, "This is what happens when you don't give ladies pockets in their dress."
The 2016 Young Designers & Technicians Awards honored great work by young artists, with inspiring introductions from award sponsors and a speech on risk-taking by Q2Q Comics' creator Steve Younkins.
Here are some outtakes:
"The winner of the very first YD&T Award in 1995 (KM Fabrics winner Erik Walstad, with Cirque du Soleil) is here at this Conference. People stay with USITT."
USITT Executive Director David Grindle, emceeing the awards.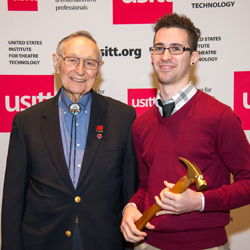 "Four years ago, I would never have imagined I'd be standing here receiving an award for scenic technology. I even told an interviewer at my first school that I had no interest in stage automation. He let me in anyway and I caught the theatre bug."
Dane Styczynski, MFA from University of Wisconsin-Madison, 2016 "Golden Hammer" Frederick A. Buerki Scenic Technology Award, sponsored by Bernhard R. Works.
"Sometimes I think of theatre as the conscience of the culture."
Bernhard R. Works, introducing Dane Styczynski.
 "The visual world of design is completed by the aural world ... And we at USITT are thrilled to honor the art of sound design even though others can't seem to understand how or why."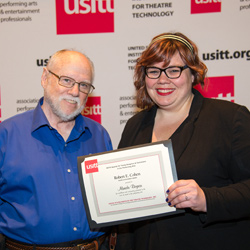 "I'd like to thank Robert Cohen for sponsoring an award that allows sound designers to be recognized by people who actually understand what sound designers do, hashtag Tony Can You Hear Me."
Almeda Beynon, MFA at CMU, 2016 Robert E. Cohen Sound Achievement Award.
 "Costumers work with fabric to violate the laws of physics."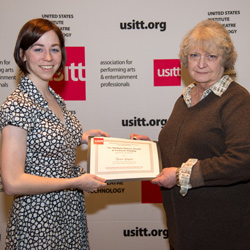 "I owe my accomplishments to my grandmother, who taught me how to sew all those years ago, igniting a passion that has fueled my work."
Sharon Limpert, MFA student at CMU, 2016 Barbara Matera Award in Costume-Making.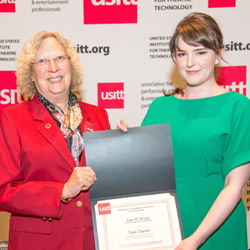 "I'm so honored to receive the Zelma Weisfeld Award. I want to thank my CMU faculty, especially my recommenders. Most of all I'd like to thank Susan Tsu, who nominated me and who has given me so many opportunities to thrive in this program … And I thank my parents. Without them, I don't think I would have been brave enough to pursue this career. They set examples for me every day."
Sophie Schneider, MFA student at CMU, 2016 Zelma H. Weisfeld Costume Design & Technology Award.
"Both of Sophie's parents are in theatrical design, so she was, as she says, 'Born in a trunk' … With her training and experience, she is spectacularly prepared to join the ranks of USITT's professional designers and technicians."
USITT Fellow Sylvia Hilliard Pannell, introducing Sophie Schneider.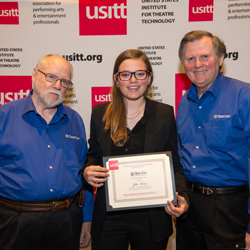 "When I originally submitted my work for this award, I said to myself, 'Julie, either way you'll come out a winner. Either you'll win the award, or you won't have to give a speech … Thank you, Dstew (David Stewart), for asking me questions I didn't know the answers to, and for frustrating me and challenging me. And thank you to all my friends and family who asked me what TV channel this would be aired on like it was the Oscars."
Julie Maury, BFA from University of Texas at Austin, 2016 USITT Stage Management Award sponsored by Clear-Com.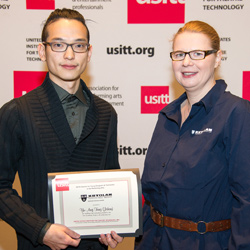 "Seven years ago when I started my career in Taiwan, I never imagined it would bring me to this point. To win an award in America means so much to me. I want to thank my parents, my family, my professors, and Kryolan for giving me the opportunity to be here today."
 Yu-Ang (Johan) Teng, MFA student at University of North Carolina School of the Arts, USITT Makeup Design Award sponsored by Kryolan Professional Makeup.
"Lighting design has been described as 'the dark art.' Lighting designers can illuminate or betray the work of every other artist."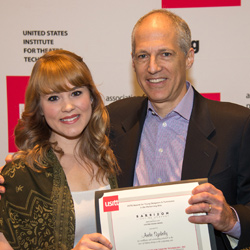 "I believe I was nominated for this award exactly when I needed it … When I read (Prof.) Brian Swanson's nomination letter, cue my uncontrollable tears in the freaking bowling alley."
Andie Szekely, BFA at Southern Utah University, 2016 USITT Lighting Design Award sponsored by Barbizon.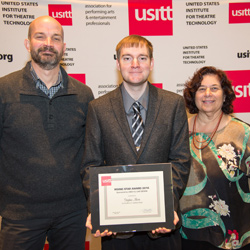 "First of all, I thank God for leading me to a career in lighting design and surrounding me with wonderful people to work with."
Stephen Moss, resident lighting designer at Studio Tenn Theatre Company, Nashville, 2016 Rising Star Award sponsored by Live Design Online.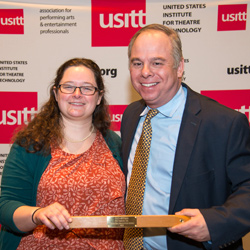 "Thank you to all those colleagues who have taught me to be a better person. I look forward to passing those lessons along throughout my career."
Kate Newman, MFA from Yale School of Drama, 2016 KM Fabrics Technical Production Award.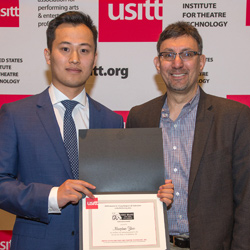 "I want to thank USITT and Rose Brand for this amazing award. I want to thank my professors for always pushing me forward, and my family for the support and encouragement that make me never give up."
Minghuo Zhao, MFA student at University of California-San Diego, 2016 USITT Scene Design Award sponsored by Rose Brand.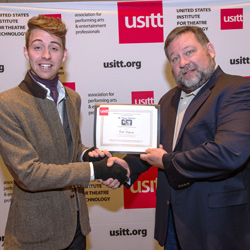 "I want to express how incredibly appreciative I am to USITT and the Fellows, and for Stage Dec sponsoring this award. It is awards like these that allow young designers to be recognized for their work … It's truly an honor to be up here being recognized with these amazing artists."
Paul Dufresne, BA student at Pepperdine University, 2016 W. Oren Parker Undergraduate Scene Design Award sponsored by Stage Dec.