News From David Grindle, USITT Executive Director
Sarah's Gift: Three Questions That Make All the Difference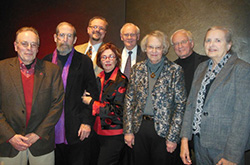 Sarah Nash Gates, Past President of USITT, was someone I was just getting to know in my role as Executive Director. When we created LiNK, I knew that, if I could get Sarah to be part of the team, it would be a success. That wasn't just my opinion; many people gave me that counsel. When I approached her about it, her response was, "Well, shoot! I wanted to tell you no, I was too busy, but this is too good to pass up." And her work, along with others, made it a success.
Sarah died in December. Sorrowful, I felt I had missed out on learning much from this person who was, frankly, very highly revered in our Institute. As I write this, I'm on a plane leaving Seattle and her memorial service. Many of her colleagues from her years of service were there, including many USITT Fellows and friends, and everyone had stories to share. This person I had just gotten to know a little in the past two years, I felt I knew a little better after hearing those stories.
It was one speaker, her University of Washington School of Drama colleague, Andrew Tsao, who brought tears to my eyes. They came because he put into words the important life lesson that was solidified for me through working with Sarah. Andrew said that Sarah, as executive director of the school, would challenge everyone, "If we do this, how do we do it well?" Then, when they were doing it well, "How can we make this better?" Finally, he said, Sarah would ask, "How can we make it the best?" While these weren't new questions for me, his telling made me see them in a new light.
Those weren't questions that were answered all at once. Those questions had to be asked over the life cycle of a project or event. They weren't one-time questions – rather, they were continual assessments of our work and ourselves. The questions don't live in isolation; they build upon one another and function as a triune assessment. This struck me because I heard Sarah's voice in my head asking those very questions during our phone meetings over LiNK. I heard those questions coming from our staff, our volunteers, and our elected leaders. While I've always asked those questions, hearing them presented this way made me realize that Sarah, among many, brought that approach to USITT, and we have embraced it as an organization.
USITT lives and breathes Sarah's words. We strive to do things well, we seek to better ourselves, and over the long course, we want to make things the best they can be. We don't shy away from projects and activities; rather we embrace the challenge and work to push through. This is the spirit of who we are as an Institute and as individuals. It was who we were before Sarah became the first woman elected President. Yet, just as I came to hear those questions in a new light at her memorial, I think the Institute heard them in a new light as well after her leadership.
I didn't get to know Sarah very well. But I discovered that she had impacted me through her leadership. As we move forward as an Institute, her three questions will affect our organization for many years to come. Sarah left a generous bequest to USITT. That money will also impact us. I truly believe that, while that gift was generous and helpful, her real gift to me and the Institute will be the result of her leadership:
"If we do this, how do we do it well?"
"How can we make it better?"
"How can we be the best?"
Thank you Sarah. I'll keep asking.